News story
RAF crew saves crashed pilots in the Philippines
An RAF C-130 Hercules crew delivering aid in the Philippines have helped save 2 helicopter pilots who crashed into the sea off Manila.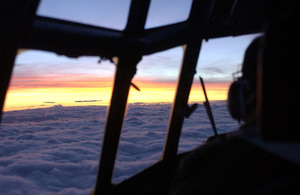 Having already completed 2 humanitarian aid flights on Sunday, the Hercules crew from RAF Brize Norton were on their approach to Manila Airport to collect more aid equipment when they heard a Mayday distress call from the civilian pilots.
The RAF C-130 Hercules captain, Flight Lieutenant Jamie Knox, immediately broke off his landing and went to search for the helicopter in distress.
The aircraft's other pilot, Flight Lieutenant Tom Arnold, said:
It was an instinctive response. When we heard that Mayday we knew we had to do something.
The downed helicopter had reportedly crashed into Manila Bay waters off Bulacan after delivering humanitarian relief goods to Typhoon Haiyan survivors in the Visayas. Its pilots were able to give the RAF Hercules their last known position over the radio, and the C-130 crew headed to that location to begin their search.
Almost as soon as the Hercules reached the crash site, an excited voice on the radio said 'we can see you', and the helicopter aircrew directed the search aircraft until the RAF crew spotted the life vests of the 2 helicopter crew members.
The RAF Hercules took on scene command of the rescue efforts, marking the location and flying above the crash scene. Flight Lieutenant Arnold then requested further assistance from Manila air traffic control and the Philippine Coast Guard, whilst reassuring his fellow pilots.
Eventually, a United States Marine Corps (USMC) C-130 Hercules arrived on the scene to assist and was able to drop a life raft for the downed pilots to scramble into.
Flight Lieutenant Arnold could hear over the radio that the aircrew were okay. The RAF C-130 Hercules, call sign 'PAGASA 47', which means 'there is still hope' in Filipino, remained above the life raft until it spotted a fishing vessel heading towards the 2 survivors. The crew then handed over control to the USMC aircraft and continued to Manila on their humanitarian mission.
Flight Lieutenant Knox said:
Stuff like this doesn't happen every day. It is fantastic that we were able to help our fellow pilots at the same time as helping the people of the Philippines.
In addition to the C-130, an RAF C-17 Globemaster aircraft and the Royal Navy's HMS Illustrious are in the Philippines providing aid to the typhoon-hit islands.
Published 26 November 2013
Last updated 28 November 2013
+ show all updates
Second picture replaced with a better one
First published.