RAF crew rescue injured walker in the Lake District
An injured elderly walker was last week rescued in the Lake District by the RAF Search and Rescue (SAR) helicopter crew from A Flight, 202 Squadron, based at RAF Boulmer.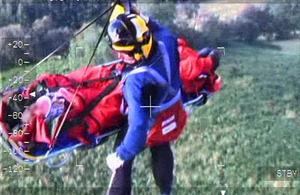 The SAR crew were alerted after a 74-year-old male walker received a head injury after falling 100 feet (30m) down a steep grassy slope and came to rest on a rocky path on Helvellyn Fell.
Patterdale Mountain Rescue Team and an air ambulance also attended the incident.
The injured man was winched into the Sea King Search and Rescue helicopter in a stretcher and taken to Carlisle Hospital.
A Flight is one of the three operational Flights of 202 Squadron based at RAF Boulmer. It provides round-the-clock Search and Rescue cover for a large area, stretching from Fife in the north to Hartlepool in the south and encompasses the Lake District in the west.
Published 6 September 2011