RAF continues to support Pakistan flood relief effort
Britain is supporting the Government of Pakistan's efforts to provide safe drinking water, hygiene kits, toilets, sewage clearance and waste…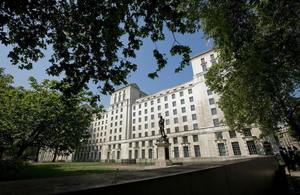 Britain is supporting the Government of Pakistan's efforts to provide safe drinking water, hygiene kits, toilets, sewage clearance and waste removal.
The air support is being provided by two RAF C-17s, the RAF's largest transport aircraft, and a C-130 Hercules, which are flying in essential aid to Islamabad from a UN store in Dubai.
From there the supplies are transferred by road to the Peshawar region of Pakistan.
UK aid worth £5m will be channelled through UNICEF and will provide approximately 136,000 hygiene kits, 4,560 toilets, 336,000 bars of sanitising soap, 270,000 buckets/jerry cans, 400,000 water purification powder sachets and 800,000 water purification tablets to help prevent further death and disease amongst the people of Pakistan affected by the monsoon floods.
This is in addition to another £5m of funding contributed by DFID to the Pakistan Emergency Response Fund being run by the United Nations.
The UK contribution will provide food, shelter, water, sanitation and healthcare to thousands of people affected by the floods. The UK was the first country to contribute to this new emergency response fund.
Defence Minister Gerald Howarth said:
I am pleased that, despite the intense demands on our aircraft supporting military operations in Afghanistan, the Royal Air Force has been able to assist the Department for International Development in the UK's flood relief efforts.

The grave situation in Pakistan requires a decisive international reaction - every effort will be made by Britain's Armed Forces to support the continued aid operation.
Published 19 August 2010