RAF continues strikes against Gaddafi forces in Sirte
Over the weekend and into Monday, RAF operations over Libya have continued, with attacks on pro-Gaddafi forces in Sirte and Bani Walid.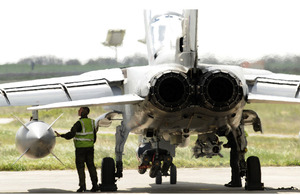 Operating under the aegis of NATO's UNIFIED PROTECTOR, following a series of successful missions on Friday and Saturday, 23 and 24 September 2011, against former regime forces in and around the city of Sirte, NATO taskings saw the RAF continue to focus its efforts on the city for the rest of the weekend.
Overnight Saturday and into Sunday, RAF aircraft struck a command and control installation, a psychological warfare centre, three firing points and staging posts, and an armed vehicle.
Paveway and Brimstone precision guided weapons were used; in one case, an inert Paveway bomb, with concrete replacing the high-explosive charge, was successfully used to destroy one particular target without risking collateral damage.
On Sunday afternoon, a further staging post, known from NATO surveillance analysis to be used by mercenary forces, was attacked by a formation of Tornado GR4s.
On Monday, British aircraft struck targets in Sirte and Bani Walid, and in both locations Royal Air Force aircraft saw action against former regime forces.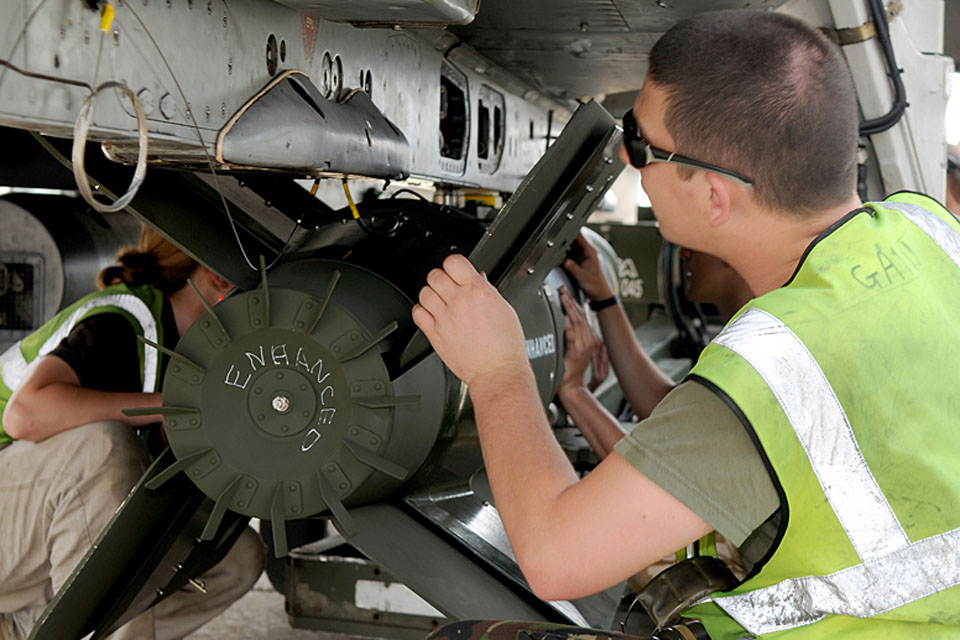 In Sirte, a formation of Tornado GR4s attacked ammunition stores, destroying their targets with Paveway guided bombs. To the west, at Bani Walid, NATO reconnaissance had identified a psychological warfare centre and a firing position used by those of Gaddafi's troops who continue to dominate areas of the town. These were also subjected to precision strikes by GR4s.
It has also been announced that HMS Ocean and her helicopter detachment have now been released from Operation UNIFIED PROTECTOR.
Delivering the update, Major General Nick Pope, the Chief of the Defence Staff's Communications Officer, said:
Given the current situation in Libya, NATO has agreed with the UK that HMS Ocean and her helicopter detachment can be released from Operation UNIFIED PROTECTOR. The vessel is offloading equipment in Souda Bay and in due course will proceed through the Suez Canal en route to the Red Sea.
Since the start of military operations on 19 March, Royal Navy, Royal Air Force and Army Air Corps strikes have damaged or destroyed some 1,000 former regime targets that presented a threat to the Libyan people.
Published 27 September 2011