RAF conducts precision strikes over Libya
Royal Air Force aircraft have conducted further long range precision strikes against Sebha, under the aegis of the NATO-led Operation UNIFIED PROTECTOR, as well as continued attacks on Gaddafi's forces around Sirte.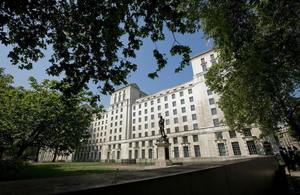 As on a number of previous occasions, a formation of RAF Tornado GR4s took off from RAF Marham loaded with Storm Shadow missiles on Wednesday morning.
Supported by a Tristar tanker, they flew south to Libya, where the Storm Shadows were fired at a number of targets in and around Sebha, including a military vehicle depot and a group of buildings which careful surveillance analysis by NATO had confirmed were in use as a base for Gaddafi troops and mercenaries who continue to suppress the local population.
Major General Nick Pope, the Chief of the Defence Staff's Communications Officer, said:
At dawn on Thursday morning, Tornados from Gioia del Colle conducted an armed reconnaissance mission to Sebha, following reports that Gaddafi's troops there were actively shelling the civilian population.

Previously during combat missions in both Libya and Afghanistan, the Brimstone missile has been fired individually, using laser guidance, with exceptionally accurate results.
However, it also has the capacity to be fired in a large salvo utilising millimetric radar to guide simultaneously each missile to a separate target. Since a large concentration of former regime armoured vehicles had been located by NATO, this mission saw the salvo firing technique used for the very first time in action, with some two-dozen missiles fired.

Full battle damage assessment continues, but seven or eight target vehicles were observed on fire, and the precision nature of the Brimstone's warhead means that additional targets were most likely destroyed or severely damaged.
Armed reconnaissance missions were also flown by the RAF over the area of Sirte during Thursday. RAF Typhoon and Tornado aircraft engaged targets on a number of occasions during the day, with Paveway bombs and Brimstone missiles destroying one tank, four multiple rocket launchers and four other armed vehicles.
At sea, the Royal Navy continues to support NATO's maritime mission to enforce UN Security Council Resolutions 1970 and 1973, with HMS Liverpool conducting boarding inspections of merchant shipping as necessary, and HMS Bangor helping keep the sea lanes free from any residual mine threat.
Published 16 September 2011