RAF charity cycle ride dedicated to Red Arrows pilot
Cyclists from the RAF have been taking part in a coast-to-coast charity cycle ride this week dedicated to Red Arrows pilot Flight Lieutenant Jon Egging who tragically lost his life this summer.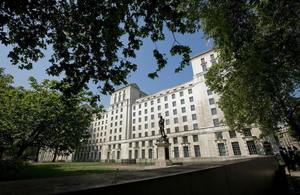 The challenge has involved a team of 22 cyclists from the Royal Air Force's Battle of Britain Memorial Flight and the Royal Air Force Aerobatic Team, the Red Arrows.
It began at St David's Head in Wales on Tuesday and, crossing the UK at its widest point, is due to finish today in Lowestoft, Suffolk, with the cyclists having covered approximately 100 miles (160km) each day.
Flight Lieutenant Jon Egging tragically lost his life on 20 August 2011 whilst taking part in a Red Arrows display at the Bournemouth Air Festival. Dr Emma Egging, his wife, has joined the team of cyclists for the entire duration of the ride. She said:
I feel immensely proud to be riding in Jon's place for this challenge and will be thinking of him all the way along. I am touched that the ride has been dedicated to Jon and that it is helping raise funds for three amazing charities, including the Jon Egging Trust.
The ride originally aimed to raise £50,000 for two charities - the RAF Association Wings Appeal and 'fly2help'. The newly-created Jon Egging Trust will now also benefit once the original target has been reached.
Before he died, Flight Lieutenant Egging became passionate about inspiring young people to take control of their lives through his love of flying and enthusiasm for teamwork.
The Jon Egging Trust's mission is to give a practical framework of new opportunities to young people aged 13 to 21 from disadvantaged backgrounds and aims to increase young people's confidence and self-esteem whilst providing life skills and accredited training.
Published 14 October 2011