RAF catering squadron sustains charity Sleep Out
Fresh from feeding Armed Forces personnel during the Olympics, No 3 Mobile Catering Squadron (3 MCS) were back in action in London last week, playing their part in the first ever UK-wide 'Sleep Out' in support of Centrepoint, the charity for young homeless people.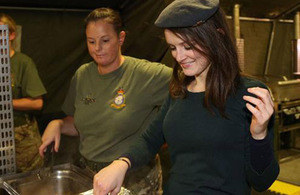 The RAF team set up and ran a field kitchen to feed the 850 volunteer 'sleepers' in Exchange Square, Broadgate.
Celebrities and members of the public spend one night on the streets each year to raise awareness and sponsorship money for the charity.
In his second year supporting the event, Warrant Officer Willie Dixon, aged 47, was in charge of the kitchen:
This year we will be cooking for more people and we hope everybody enjoys it as much. During the Olympics we fed 4,000 people at Hainault Park; tonight at our busiest we could feed 100 people in 10 minutes.
There are eleven personnel on the team; between them they have 120 years' operational experience and have all volunteered to be on the squadron.
No 3 MCS provides catering, accommodation management and laundry services for all Armed Forces personnel on operations around the world:
During operations in Libya we fed 500 Service personnel every day. We class ourselves as the spearhead element; we are among the first to be deployed and one of the last elements to come home," said WO Dixon.
Wherever they are working, 3 MCS help keep morale high and maintain healthy, fit troops able to carry out the tasks required of them.
Helping to feed the 'sleepers' was chef Senior Aircraftman Christopher Spicer, aged 25:
No matter where you are in the world it gets hot under that field kitchen tent," he said.
Wherever we are and whoever we are cooking for the standards are always high.
When serving, especially in Afghanistan, you see the guys come back and they are completely drained. You can see that the highlight of their day is the food, it boosts their morale; they can recharge their batteries and it sustains them for what they have to do next.
Celebrity guests Allen Leech and Sophie McShera joined the queue to sample Senior Aircraftman Spicer's creations. Allen, best known as Tom Branson in Downton Abbey, said of the food: "amazing, I am loving it!"
Used to cooking under pressure, in her television role at least, actor Sophie McShera, who is best known as Downton's Daisy the kitchen maid, took a turn behind the servery.
Asked if the 3 MCS team would be good enough to serve Lord Grantham, Sophie replied:
I'm not sure they could cope with Mrs Patmore's wrath, but yes, easy, the RAF could serve at Downton Abbey!
During the Sleep Out, 3 MCS served:
364 chicken breasts
560 beef steaks
560 pork steaks
1,152 bread rolls
9kg of apple sauce
25kg of onions
1,280 sausages
1,125 slices of bacon
50kg of baked beans; and
540 eggs.
Centrepoint's Sleep Outs aim to raise more than £250,000 to support homeless people aged 16-25 with accommodation, learning and health. The London event was part of the first ever nationwide Sleep Out, in partnership with homeless organisations across the UK including Keyhouse, the Amber Foundation, St Basils, the Rock Trust, St Edmunds Society and Llamau.
Comedian Tim Vine, singer Eliza Doolittle and girl band Stooshe were in London on the night to entertain the sleepers, along with hosts Richard Madeley and DJ Sara Cox.
Published 13 November 2012