RAF brother and sister serve together in Bastion
Corporals Mark and Lyndsay Roberts joined the RAF independently of each other and are now both involved in the air-side of the daily running…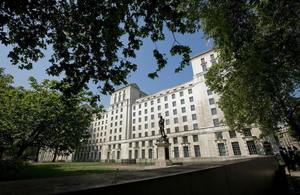 Corporals Mark and Lyndsay Roberts joined the RAF independently of each other and are now both involved in the air-side of the daily running of the camp.
Lyndsay, who is on her fourth tour of Afghanistan and previously deployed to Iraq, joined the RAF in 2007.
She said:
I joined because I wanted a more challenging and fulfilling life - and I have certainly had that.
Lyndsay's job at Camp Bastion is to provide security for the airfield.
She added:
Although I enjoy my job out here, I am looking forward to going back home and spending time with my family.
In her spare time, Lyndsay is a keen footballer, and before joining played for the Nottingham County ladies team, although she now plays for the RAF.
Her brother Mark joined the RAF in 2008 and also graduated from the Defence Police College.
Mark said:
I joined to gain experience in the aviation security industry and also to be a policeman.
Mark's job at Camp Bastion is working on flight line security, which includes entry checkpoint and air transport security.
He said:
I am enjoying my tour, but I miss my wife Jodie and nine-month-old son Oscar, and especially not being able to see him take his first steps.
Mark does not seem to mind working alongside his older sister, although he has never forgotten that, as children, Lyndsay volunteered him to do a paper round, but kept the money he made for herself.
Published 10 June 2011