RAF Brize Norton resumes repatriation duties
Sergeant Barry Weston of 42 Commando Royal Marines was killed by an improvised explosive device while leading a patrol in the Nahr-e Saraj district…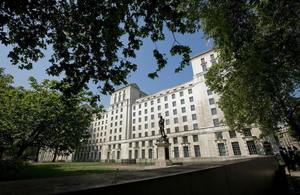 Sergeant Barry Weston of 42 Commando Royal Marines was killed by an improvised explosive device while leading a patrol in the Nahr-e Saraj district of Helmand province on 30 August 2011; his body was the first to arrive at the £2.8m specially designed centre.
Nearly 4,000 people lined the route from the station's Britannia Gate to the John Radcliffe Hospital in Oxford, more than 2,500 of them in the nearby village of Carterton.
The cortege paused at the newly-created memorial garden where members of Sergeant Weston's family laid white and red roses on the hearse. As the procession passed, the standards carried by members of the Royal British Legion were lowered as a mark of respect.
Published 9 September 2011