News story
RAF Brize Norton counting down to Christmas
As people tuck into Christmas dinner, it will be business as usual for RAF personnel deployed overseas or at RAF stations across the UK.
Here we take a closer look at how RAF Brize Norton in Oxfordshire prepares for the festive season.
The boss
RAF Brize Norton is the largest station in the RAF and has approximately 6,000 Service personnel and 1,400 MOD civil servants and contractors. It is the home of the Air Mobility Squadrons and the 'gateway to operations' as the main airport used for deploying UK troops worldwide.
The station never sleeps and supports operations around the world 24/7, 365-days-a-year. Station Commander Group Captain Steve Lushington and his family will be serving Christmas dinner to the junior ranks on the big day. He said:
As the festive season gets into full swing, for personnel at RAF Brize Norton work continues as normal. The support to operations is paramount; even during the festive period personnel are still required to be on duty.
Pilots and engineers on 216 Squadron and 99 Squadron maintain their high readiness state, personnel continue to control from the tower, operations staff continue to plan missions and taskings, all supporting tri-Service personnel across the globe.
99 Squadron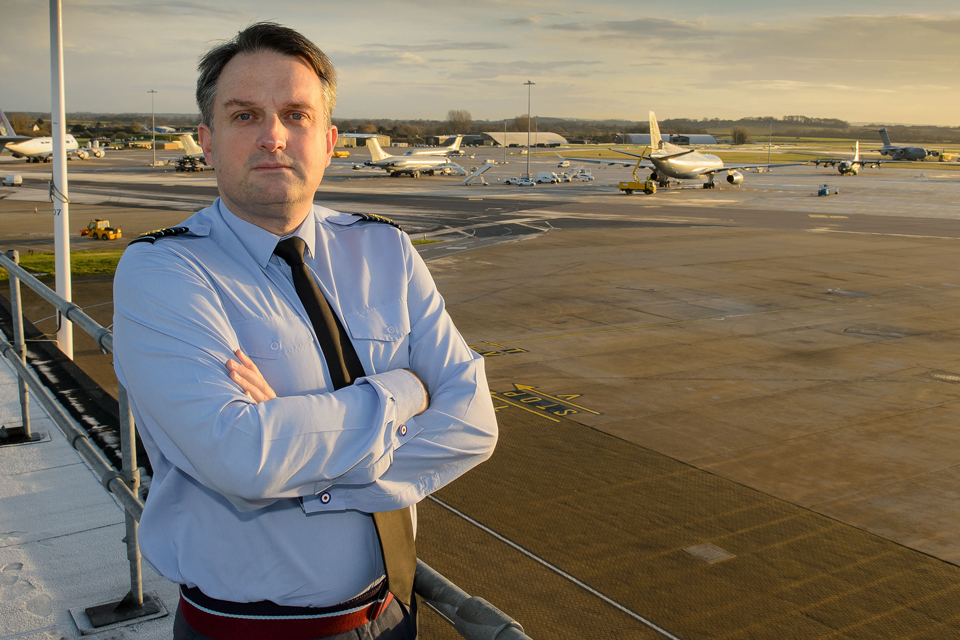 The C-17 Globemaster is a huge, heavy-lift transport aircraft operated by 99 Squadron. It can carry troops and all types of cargo around the world, including transporting Merlin and Chinook helicopters direct to the front line in Afghanistan to provide support to ground troops.
Wing Commander Stuart Lindsell is the Officer Commanding 99 Squadron and has volunteered to cover Christmas duties:
The squadron is 300-plus-strong and moves an immense amount of personal mail and parcels from families and loved ones. It's rewarding for us to know that we are helping to play a part in connecting Service families who are separated over the Christmas period.
It's very much 'business as usual' for 99 Squadron; we have crews covering aeromed standby, a crew based in the Middle East ready for normal tasking. The squadron engineers stand ready to generate an aircraft at short notice should an aeromed mission be called and they will also be manning the engineer control desks as normal.
The best way to look at it is hopefully Christmas Day itself will be quiet, but Christmas Eve, Boxing Day and to that extent the New Year period are no different to any other time of year.
The festive season can bring wintry conditions and, a couple of years ago, when the UK was gripped by sub-zero temperatures and heavy snowfalls, in the thick of it were 99 Squadron who battled to get troops home for Christmas. Wing Commander Lindsell said:
Snow and ice are certainly not ideal flying conditions to say the least but as a station we are better off than we were when the wintry conditions of 2010 hit. We did manage to get everyone home but it was certainly a challenge!
Snow and ice operations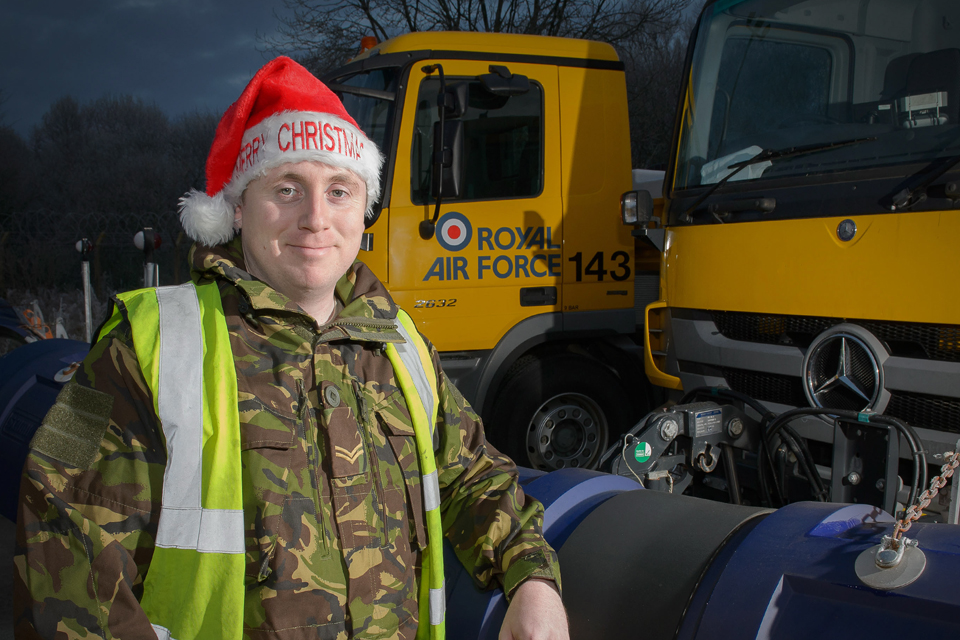 Corporal John Oliver will also be on standby during Christmas and works at the Complete Equipment Schedule Store at Airfield Support Mechanical Transport that, amongst other things, makes sure vehicles are in working order. He said:
We've spent the last 2 months preparing and bringing online all the snow and ice prevention vehicles as they are not used during the summer months; we inflate their tyres, fill the vehicle up with whatever fluid it needs, test it and carry out daily inspections to make sure they are ready to go.
If it was horrendous snow the main vehicle we would use is the airfield snow clearing vehicle or the compact jet sweeper.
The vehicles are equipped to plough snow, break up compact ice and blow snow, broken ice or other debris to the side. Corporal Oliver continued:
My job is to make sure we have a serviceable fleet of vehicles to meet the minimum required to clear the airfield. It's a priority to clear the runway and certain bays.
Getting the airfield cleared is very important for the 'airbridge', especially for those personnel that want to get home in the last couple of days before Christmas.
Air Movements Squadron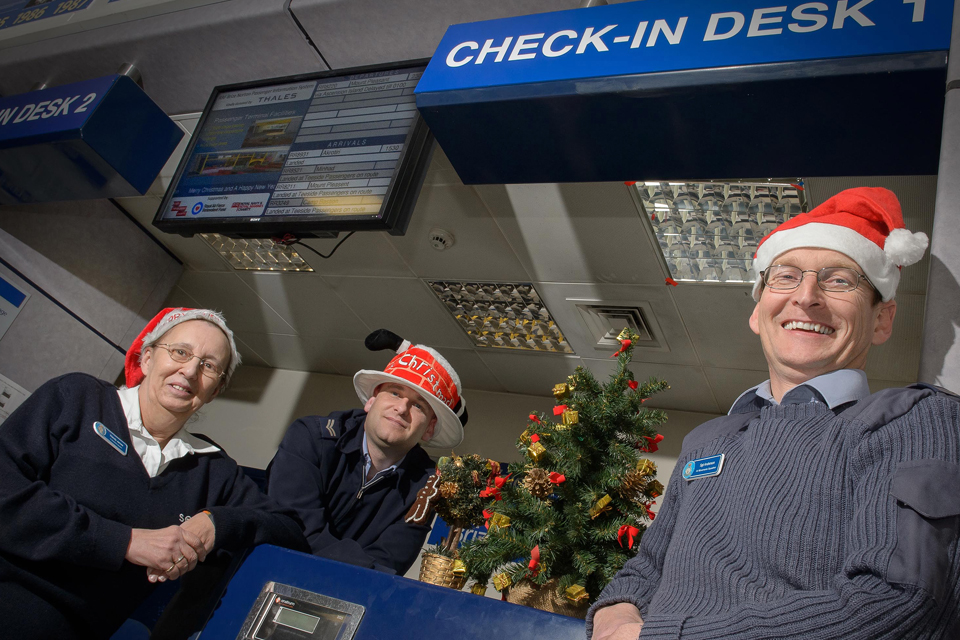 Corporal Emma Hopkinson works on the passenger check-in desk in the air terminal for the Air Movements Squadron. She said:
It's like a civilian airport. The difference is, if I went for a job in a civilian airport I would only just be either a check-in girl, departures, or elsewhere in the building, whereas here at Brize we have to multi-task and do everything - one minute I could be behind the check-in desk, then I could be on the check-through or departures.
We see the whole process through and make sure that nobody is left behind!
When asked what it's like checking in troops knowing they will be away for Christmas, Corporal Hopkinson said:
My job is no different at Christmas, the process is still the same, it's the personalities and how people are with you, and how you are with them - I try and be a bit more jolly! I've done Iraq, Afghanistan and Ascension Island at Christmas, so I know what it's like being away at this time.
Corporal Hopkinson will be on shift during the Christmas period but sets aside a day in the new year to have a 'Christmas Day' with her family:
I remember one year my mum bought a second turkey and it stayed in the freezer until February! I go to college and have met a lot of people and they are surprised I'm working Christmas Eve and Christmas Day - they ask 'are you open?' and I say yes! it's a 24/7 camp, and it's the same for New Year.
Christmas 'presence'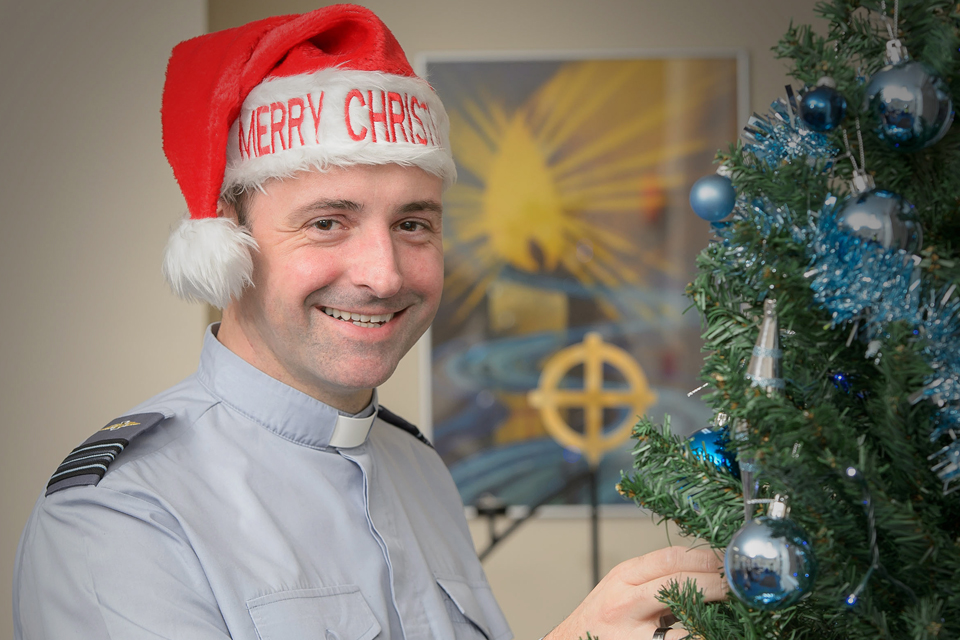 Like the station itself, the chapel is open 24/7, and for the RAF chaplains the run-up to Christmas is always busy. Reverend Squadron Leader Kevin Caplin-Jones, otherwise known as 'Kev the Rev', will be working over the New Year period, but last year was on duty over Christmas. He said:
Because our senior chaplain was away on ops, I joined other officers on station and helped serve Christmas lunch in the Junior Ranks Mess.
It was a great experience, my wife was with me and some personnel brought family along. There was that family feel, the military family; everyone was in very good spirits as the portions of potatoes were getting bigger and bigger!
We often think about the people who are deployed at home or overseas, but it's harder for the families left behind. Service people will make the most of it, no matter what, and I'm sure they get an extra mince pie or an extra bit of turkey and will make the most of the day.
It's the families left behind and the kids that don't have their mum or dad with them on Christmas Day that find it hard.
The best gift at Christmas is 'presence'. For those who have had loved ones away last year, they will know that having loved ones around is the best gift.
If not 'presence', instantaneous communication such as emails and Skype is great; however, people underestimate e-blueys and handwritten letters - they have that personal touch which means so much to people and always makes a difference.
Published 17 December 2012