RAF bomb disposal officer's Olympics safety role
An RAF bomb disposal officer has completed a six-month sabbatical working as the safety lead at Eton Dorney for the London 2012 Olympic and Paralympic rowing events.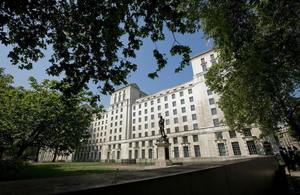 Squadron Leader Tim Ellis was the man charged with the responsibility of ensuring all the rowing events passed off safely. Ultimately, if he said no, for whatever reason, then the event would not go ahead until he was happy.
He explained:
The main challenge to safety when it comes to rowing is the weather. If it's thunder and lightning or strong winds then I have to step in.
There were three occasions when Sqn Ldr Ellis had to enforce a stop to an activity during the Olympic and Paralympic Games:
There were three training sessions which I had to put a stop to," he said. "When you consider you are interrupting four years of intense training for an athlete at probably the most critical time, it's a tough call to have to make, but make it I had to do.
Sqn Ldr Ellis, who has over 21 years' experience as a rower and event organiser, was approached by LOCOG (the London Organising Committee) in 2009 with a view to taking up this most challenging of positions.
After a number of interviews and with the kind permission of the Royal Air Force it was agreed that he'd be allowed six months' unpaid leave from his duties as an RAF bomb disposal officer.
In the run-up to the Games, Sqn Ldr Ellis was busy with LOCOG in the planning for the highly successful Eton Dorney venue, drawing up safety regulations and providing his expert knowledge and experience of running such a prestigious event. Sqn Ldr Ellis had in fact held a similar position at the Rowing World Cup held at the same site in 2005.
Sqn Ldr Ellis's main worry was that an incident would affect the races, but thankfully nothing happened and all went as planned.
He added:
For me the highlight of the games was watching Kath Grainger, finally and most deservedly, winning her gold medal in the Doubles' Sculls. She is such a fantastic ambassador for both her country and the sport.
Sqn Ldr Ellis can now look forward to a well-earned rest as he takes a fortnight's leave before he returns to his duties as Officer Commanding 5131 (Bomb Disposal) Squadron at RAF Wittering. However, he will return with many cherished memories of his once-in-a-lifetime experience; foremost will be the immense sense of teamwork among the volunteers:
They simply made it, none of this could've happened without their wonderful contribution.
Published 3 September 2012