News story
RAF at world's largest air show
The Royal Air Force demonstrated its global capabilities to 130,000 people at the Royal International Air Tattoo (RIAT) at the weekend.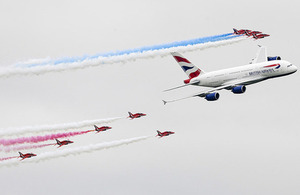 Nearly 30 RAF aircraft joined around 160 aircraft from 20 other nations at RAF Fairford in Gloucestershire on 20 and 21 July, including the iconic Red Arrows, which performed a stunning 'Best of British' display with a British Airways Airbus A380, the world's largest commercial airliner.
During the show, a 617 Squadron Tornado GR4 from RAF Lossiemouth, near Inverness, flew alongside a historic Avro Lancaster from the RAF Battle of Britain Memorial Flight in a salute to mark the 70th anniversary of the squadron's legendary 'Dambuster Raids'.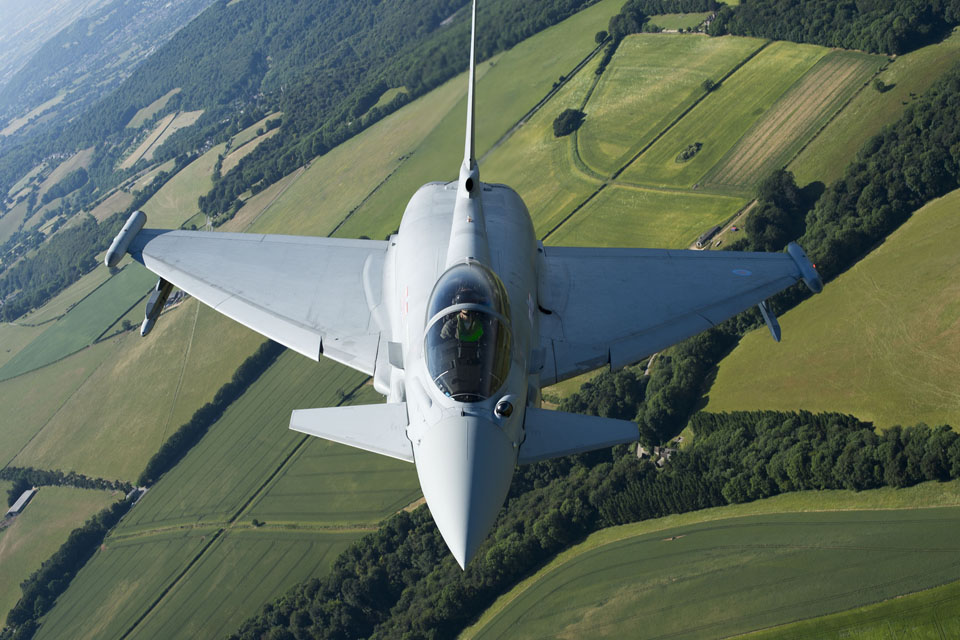 Other RAF aircraft at the show included the Voyager – the new strategic tanker aircraft which will support the RAF's ability to conduct air transport and air-to-air refuelling worldwide – and the Typhoon, the mainstay of the RAF's homeland defence and strike capabilities. Ground-based RAF assets included crews from the RAF's global communications and bomb disposal units, and a team from No 1 Air Control Centre, the Service's mobile tactical air command and control unit.
Also meeting members of the public were hundreds of members of the Royal Air Force Reserves specialising in intelligence, medical evacuation, media operations and movements, completing a line-up of regular and reserve RAF units which stand ready to deploy worldwide at short notice in support of the UK's defence needs.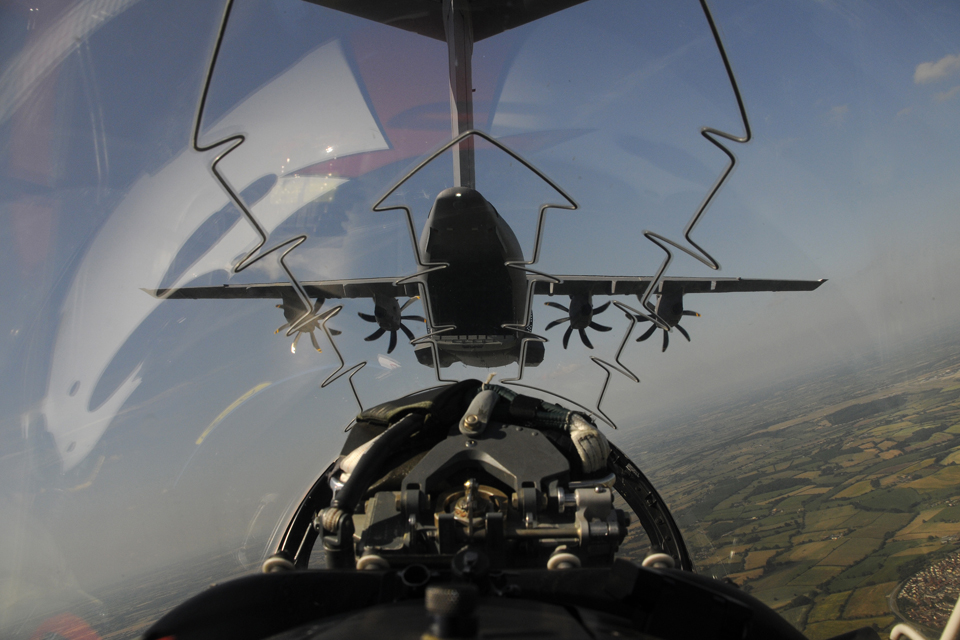 The RAF's new strategic transport/tanker aircraft, Voyager, operated in partnership with AirTanker, is one of a fleet of RAF aircraft that enable the Service to transport people and equipment around the world swiftly in support of operations and humanitarian aid missions.
The aircraft, which is able to refuel 2 fast jets at the same time, while carrying passengers, is supported by a crew of up to 12, including 2 pilots. It can carry up to 291 passengers and 110 tonnes of fuel.
When Voyager is on operations it will be able to refuel both the Tornado GR4 and the Typhoon, enabling the aircraft to stay in the air longer in order to protect troops and civilians from the sky.
10 Squadron, which operates the Voyager aircraft, is manned by both regular pilots and sponsored reservists.
Sponsored reservists work under an agreement between MOD and a contractor – in peacetime work is carried out by civilian contractors and in an operational environment they employ sponsored reservists trained in the necessary military skills.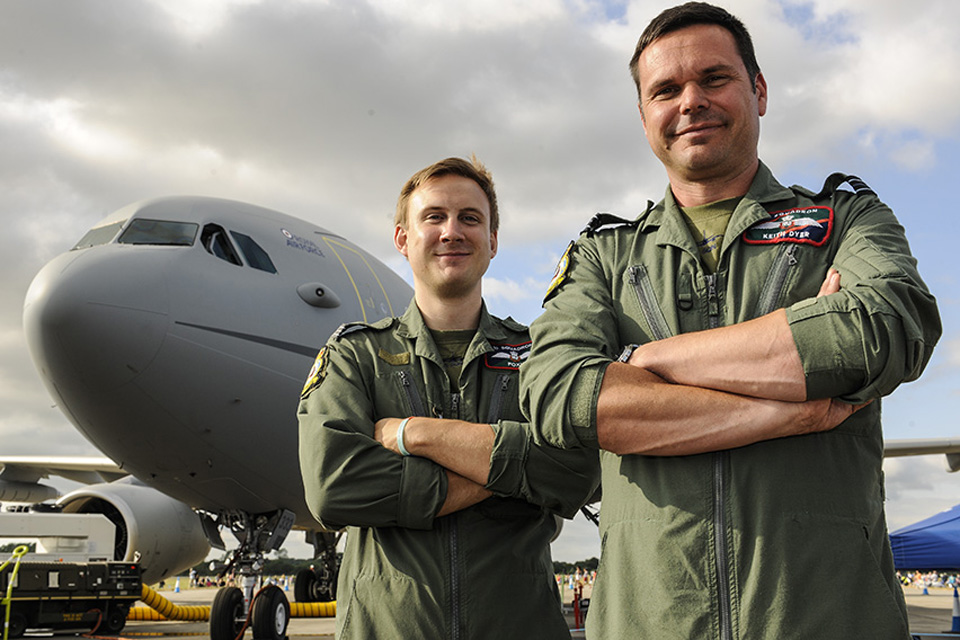 Flight Lieutenant Keith Dyer was an RAF pilot before becoming a pilot for a civilian airline, and is now a sponsored reservist working with AirTanker:
We have a very good working relationship with our regular colleagues," he said. "When we first got AirTanker it was totally new to the RAF and so we used the experience from the civilian world. Now we work together in harmony.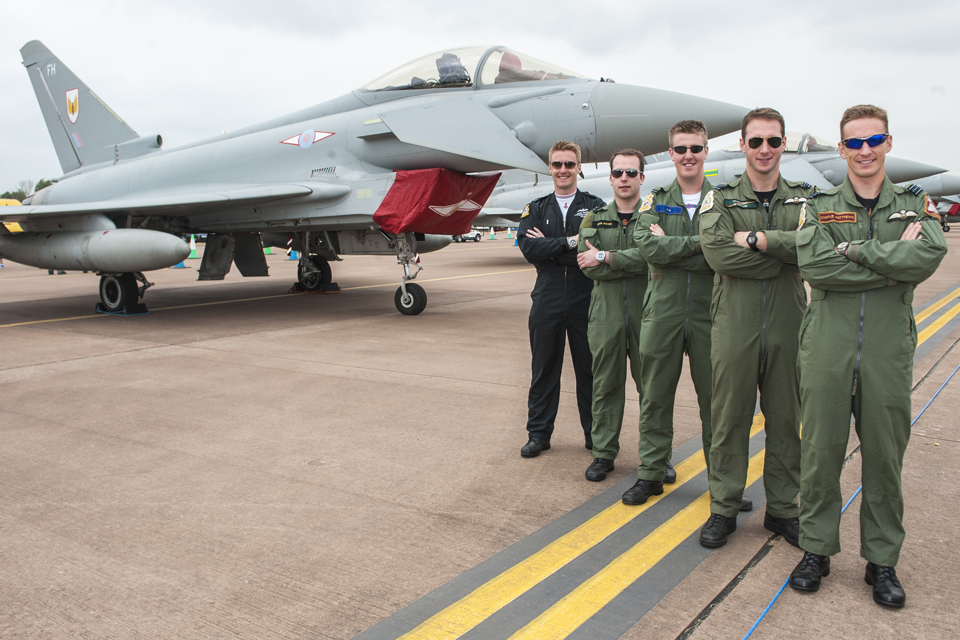 This year aircraft from 5 of the Royal Air Force's 6 operational Typhoon squadrons were at RIAT, where visitors were treated to a display of the Typhoon's incredible power and agility by Flight Lieutenant Jamie Norris, who flies as the Typhoon display pilot with 29 Squadron – the Typhoon's operational conversion unit:
Typhoon is an incredible weapons platform," said Flight Lieutenant Norris. "Its thrust is incredible, and coupled with its carefree handling characteristics it's just a phenomenal aircraft to fly, with incredible endurance for fighting in and out of the battle.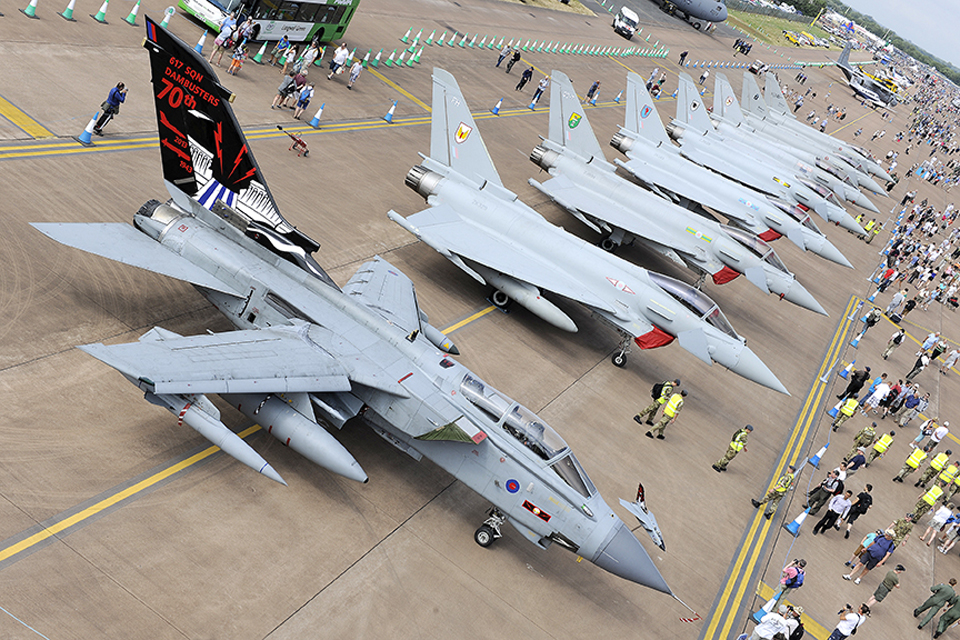 As well as putting on a thrilling display with their Tornado GR4 aircraft, 617 Squadron – the 'Dambusters' – were keen to talk to members of the public about their heritage and the challenges they face as they prepare to deploy to Afghanistan later this year.
Weapon Systems Operator (WSO) Flight Lieutenant Jim Roughton will be heading to Afghanistan for the third time, and says he's impressed by the progress he's seen there:
We notice progress from a different perspective," he said, "because we can look down on the battlefield. We can see that patrols now consist mostly of Afghan National Security Forces.

Seeing that transition is great, and we can also see the difference in the effect we're being asked to provide – more surveillance and reconnaissance, and less offensive action.
Flight Lieutenant Alex Lock is a junior WSO, having completed his flying training with 15 Squadron in June 2012:
Flying this aircraft is an amazing privilege," he said. "It makes a massive difference in Afghanistan; I don't think any other aircraft comes close to what it can do.

I feel honoured to be heading to Afghanistan with 617 Squadron in such a special year, and can't wait to get started on operations.
From bouncing bombs to lightning strikes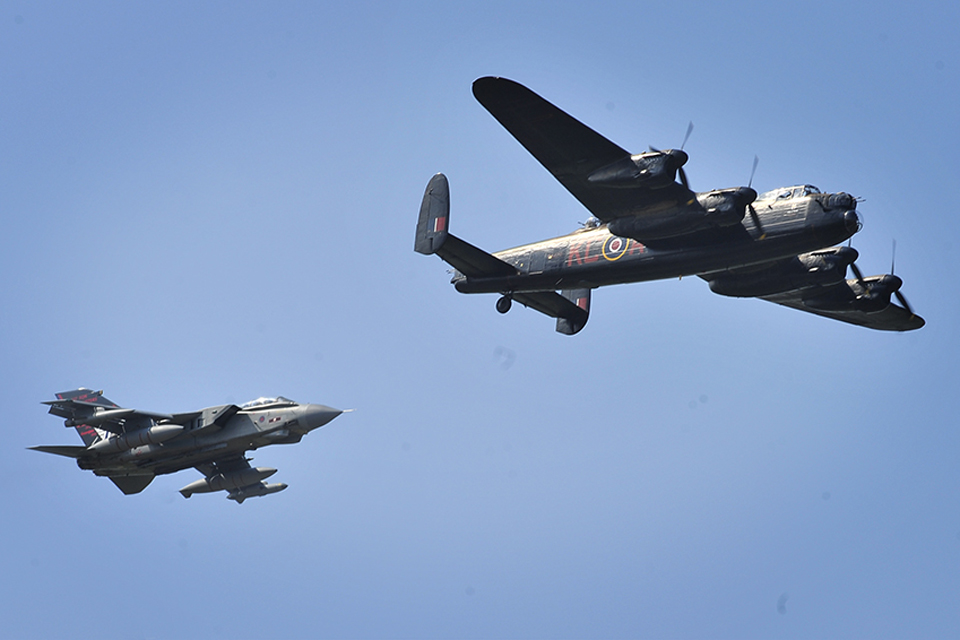 In 1943, 617 Squadron played a vital role in the Second World War by staging the famous Dambuster Raids, destroying strategic dams in Nazi Germany. This year, the squadron invited its veterans to meet the people who serve under the same badge today.
Flight Lieutenant Lock said:
In this 70th anniversary year we're all in awe of the commitment, skill and bravery of the squadron's founders. We have a lot to live up to, and it's an honour to be following in the footsteps of the original Dambusters and all the other airmen, airwomen and aircrew who've served with 617 Squadron over the last 70 years.
On Friday, 19 July, the RAF announced that 617 Squadron would be disbanded in 2014, reforming in 2016 as the first operational RAF squadron to fly the new F-35 Lightning II fifth-generation short take-off and vertical landing multi-role supersonic stealth aircraft.
Published 22 July 2013