RAF armourers ensure strike missions continue in Libya
Royal Air Force armourers are making sure that Britain continues to play a full part in delivering precision strikes against forces loyal to the Gaddafi regime in Libya.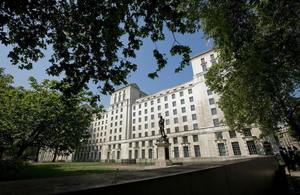 These specialist airmen and women are at the forefront of preparing the RAF's Typhoon aircraft for their multi-role duties.
UK air strikes are ensuring that the regime's forces are prevented from posing a threat to civilians. Those forces, however, are often positioned in the streets of Libyan towns and cities, amongst or in close proximity to civilians that the NATO-led coalition forces are trying to protect.
The key priority is preventing casualties among local people whilst removing the threat posed by the regime's troops.
For that reason, the UK is using the most precise weapons available: the Brimstone Dual-Mode Seeker anti-armour missile and the Paveway IV bomb.
The job of storing and preparing those weapons falls to the team from 93 Expeditionary Armament Squadron (93 EAS).
The Squadron's role is to deploy with RAF aircraft across the world to set up safe preparation and storage areas for weapons, providing safe parking for armed aircraft and the resupply of weapons. The team can then ensure that the flying squadrons have sufficient weapons ready to be loaded onto aircraft by their armourers.
While Brimstone is relatively easy to prepare, Paveway IV is more complex. At the weapon's core is a 500lb (227kg) bomb; the armourers' role is to add the guidance systems.
The guidance equipment arrives in kit form. The parts are built around the bomb, allowing it to be directed both by laser targeting and an onboard GPS. This dual guidance makes each Paveway IV a fearsomely accurate weapon.
The 93 EAS team can assemble a set of four Paveways in around an hour. Each day they build more as the UK's Tornado and Typhoon aircraft continue to hit Libyan regime ground forces.
Flight Lieutenant Ian Pickering, who commands the 93 EAS detachment at Gioia Del Colle, said:
The team deployed at very short notice. While some of the guys have experience from Afghanistan, there's still a lot of less-experienced personnel. This is a real opportunity for them to experience the true role of the Squadron; setting up from scratch and supporting an emerging, expeditionary operation.

It's a great achievement to be supporting 20 fast jets within just a few days of starting. We are providing 24-hour cover, working in 12-hour shifts, and have supplied dozens of Brimstones and dozens of Paveway IV.

At the same time, we are also providing air-to-air missiles, and handling countermeasure flares for the aircraft," he added.
Published 18 April 2011