RAF and UAE Air Force join for Exercise Air Khanjar
The Royal Air Force has recently been working closely with the United Arab Emirates (UAE) Air Force in the UAE to build stronger ties between the two militaries and enhance the way they co-operate.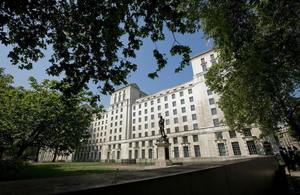 Personnel from the two air forces have been taking part in Exercise Air Khanjar at Al Dhafra Air Base in the UAE as part of wider support to a bilateral defence co-operation accord between the UK and the UAE.
Exercise Air Khanjar has reiterated the flexibility of air power for both nations and, for the RAF, it has provided valuable experience of operating in challenging desert conditions.
The exercise was planned on a 'building block' approach of gradually increasing the complexity of the training. However, it was soon apparent that the skill levels at both individual and squadron levels were closely aligned and the exercise was accelerated into more complex areas.
Wing Commander Jez Attridge, Officer Commanding XI Squadron, and also, for the duration of Exercise Air Khanjar, Officer Commanding 906 Expeditionary Air Wing (EAW), said:
We've found the UAE Air Force to be very flexible in its operations and able to adapt well to working with us. They have some excellent aircraft that have integrated remarkably well with Typhoon.
He went on say:
The UK has long-standing close co-operation with UAE and complementary weapons systems, which, given the current political and military realities of most military operations worldwide being coalitions, it is always good to rehearse operations with other proficient partner nations.
Wing Commander Attridge said the real bonus, for a world class fighter aircraft like Typhoon, was to engage in 'dissimilar air combat training' with other aircraft that are both new and challenging adversaries:
The weather is a pretty big bonus too, obviously it's nice to live and work in good weather, but it actually means that we can pretty much guarantee maximum training time," he added.
Another essential part of Exercise Air Khanjar has been the command and control contribution of 8 Squadron's E-3D AWACS (airborne warning and control system) aircraft.
This aircraft provides information superiority for commanders both in the air and on land or at sea. To demonstrate this important aspect of the exercise, the involvement of HMS Cumberland, operating in the Gulf, has added significant value.
Combined forces of RAF Typhoons and UAE Air Force aircraft rehearsed both protecting and 'attacking' the ship, all controlled from a distance by the AWACS aircraft.
Wing Commander Paul Moss, Officer Commanding 8 Squadron, discussed the way in which the RAF and UAE Air Force crews operated:
Apart from call signs there was no real difference in the crews, the professionalism and motivation were identical.
Whilst both the Typhoon and AWACS crews are used to regularly working together back in the UK, the rest of the EAW, the force headquarters and supporting areas such as engineers and administrators rarely get the opportunity to do so until they are deployed together.
Wing Commander Moss continued:
It's interesting to see that we've effectively travelled thousands of miles to see the massive benefit we get once we know each other well and work together regularly.
The trouble is, although we're only 25 miles [40km] apart back home in Lincolnshire, we basically don't have the time to travel and work more closely.
However, the benefits have been so tangible here that certainly the force headquarters will now do this more often at home.
Published 10 December 2010