RAF and Navy take further action against pro-Gaddafi forces
The Royal Navy and RAF took further action yesterday against pro-Gaddafi forces in Libya under NATO's Operation UNIFIED PROTECTOR to enforce UN Security Council Resolution 1973.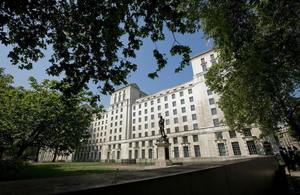 In the early hours of yesterday morning, a precision strike over the area surrounding Bani Walid, where RAF aircraft were conducting armed reconnaissance patrols, destroyed a military command and control installation.
A couple of hours later, RAF aircraft identified a pick-up truck armed with a large rocket pod. A Brimstone missile destroyed the vehicle, with numerous secondary explosions from the rockets.
In the afternoon, Tornado GR4s conducted a strike on six buildings in use by former regime forces near Bani Walid, at Qaryat al Mirqib. All six targets were destroyed by Paveway guided bombs.
Overnight, HMS Liverpool again fired star shells over pro-Gaddafi military positions at Sirte to demonstrate to those forces which persist in prolonging the conflict that their positions are well-known and capable of being targeted.
Meanwhile, yesterday, UK Prime Minister David Cameron and French President Nicolas Sarkozy co-chaired an international conference on Libya in Paris.
The meeting was an opportunity to help the National Transitional Council on the path to establishing a free, democratic and inclusive Libya. Over 60 countries attended the meeting along with UN Secretary-General Ban Ki-moon.
Leaders at the conference agreed to continue with NATO operations, bring those guilty of war crimes to justice and support the National Transitional Council (NTC) in its efforts to achieve political transition. It was also unanimously agreed that frozen Libyan assets should be handed over to the NTC.
Speaking following the meeting, Mr Cameron said that although 'enormous difficulties' lay ahead the Libyans were showing the world their courage, spirit and resilience.
He added that the NATO operation in Libya would continue for 'as long as we are needed to protect civilian life'.
Mr Cameron also said that lessons had been learnt from Iraq and past conflicts and this was reflected in the fact that there have not been occupying armies or invading forces.
Published 2 September 2011