RAF and Navy strike numerous targets in Zlitan
Two formations conducted a concerted strike on a former regime barracks and ammunition depot near the town of Zlitan yesterday, as well as a…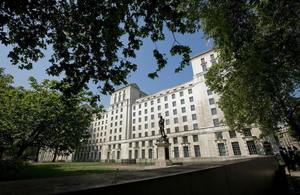 Two formations conducted a concerted strike on a former regime barracks and ammunition depot near the town of Zlitan yesterday, as well as a headquarters.
Subsequent missions attacked two command and control facilities and a military staging post in Zlitan and Al Khums, while in the east of the country another RAF patrol successfully engaged a tank and a Grad multiple rocket launcher near Brega.
At sea, HMS Bangor continued her long-standing mine countermeasures patrol off Misurata, where Colonel Gaddafi has repeatedly made unsuccessful attempts to deny the port to humanitarian shipping, while HMS Liverpool once again fired a barrage of illumination rounds to support NATO operations in the Zlitan area.
Fleet Air Arm Sea Kings from HMS Ocean used their Searchwater radar to augment NATO's fixed wing surveillance capabilities.
Yesterday morning, Apache helicopters from the Army Air Corps, flying from their carrier HMS Ocean, penetrated deep into Libyan airspace to conduct a strike on a troop concentration at Al Watiyah, 40 miles (64km) south of the coast at Zuwarah.
Hellfire missiles and cannon fire accounted for one headquarters and twelve military vehicles, including at least one armed with a surface-to-air weapon system, with another four vehicles left seriously damaged.
Fleet Air Arm Sea Kings provided radar cover, whilst RAF Tornado GR4s flew as overwatch. The Tornados were also able to prosecute successfully a target of their own, destroying a military staging post further south at Tiji.
On Saturday, a precision strike was conducted against a location near Bir al-Ghanam in the Djebel Nafousa, which was supporting multiple rocket launchers. This was followed up by successful attacks on two ammunition stores and a headquarters in the same area, our aircraft employing Paveway guided bombs to destroy their targets.
NATO taskings saw RAF aircraft maintaining frequent patrols throughout Friday over the Djebel Nafousa. One such patrol attacked a building used by artillery teams firing into Yafran, whilst another patrol struck a staging post for the former regime forces which have been concentrated around Gharyan.
On Thursday RAF Tornado and Typhoon aircraft struck two locations in Zlitan which intensive NATO surveillance and analysis had shown were being used by Gaddafi's troops. A Grad multiple rocket launcher system, concealed under trees, was also destroyed.
Similar missions were also flown against targets identified in the Djebel Nafousa, including two buildings used by artillery teams firing into Yafran, and a headquarters and camp for troops mustered at Gharyan.
Also on Thursday, HMS Liverpool closed in to fire a number of salvos from her 4.5-inch (114mm) gun against a mortar and rocket position near Zlitan.
Following up on reconnaissance information provided by the RAF and other NATO air patrols earlier in the day, British Army Apache helicopters launched from HMS Ocean. Supported by Fleet Air Arm Sea Kings providing radar overwatch, the Apaches attacked a pair of vehicle checkpoints used by Gaddafi's men to prevent the free movement of civilians in the area.
Five military vehicles were destroyed in and around these positions. Meanwhile, RAF jets conducted a precision strike against the Bin Ghashir missile depot in Tripoli; ten Paveway guided bombs were dropped.
Published 8 August 2011