RAF airwoman to attempt 500km ultra triathlon
30-year-old Flight Lieutenant Rachael Cadman from RAF Cranwell could soon be the first woman ever to complete the gruelling Enduroman Arch to Arc; starting in London and finishing, five days later, in Paris.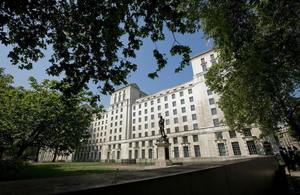 At the end of August, Flight Lieutenant Cadman will attempt to run 87 miles (140km) from Marble Arch in London to Dover, swim the English Channel, then cycle 181 miles (291km) from Calais to the Arc de Triomphe in Paris - all in the space of five days. Since the challenge started in 2001, only seven men have completed it:
It sounds pretty daunting," said Flight Lieutenant Cadman, "but I have been working up to this for some time and raising money for Help for Heroes and ShelterBox disaster relief is a great motivation to see it through.
As part of Flight Lieutenant Cadman's preparation for this challenge she has undertaken a number of other events. Last year she won the female category of the Enduroman UK Double Ironman contest, swimming 4.8 miles (7.7km), cycling 224 miles (360km), then running a double marathon, without sleeping.
In February this year, she completed the gruelling Enduroman Lanzarote Ultra Triathlon and has been keeping herself in shape since by doing the occasional 50-mile (80km) training run.
Flight Lieutenant Cadman, who is being sponsored by Herbalife, said:
The great thing about being in the Royal Air Force is that, as an organisation, it is committed to helping people reach their potential and achieve their ambitions. I have had a great deal of support from the RAF, with flexibility over training and competing, and some really valuable backing from the RAF Sports Board.
In her day job, Flight Lieutenant Cadman is an RAF training officer, currently developing the training programmes for officers in the Air Cadet Organisation. Her Commanding Officer, Air Commodore Barbara Cooper, said:
Everyone in the RAF is extremely proud of Rachael, she has incredible determination and no shortage of courage to be undertaking a challenge of this magnitude. We all wish her every success.
Published 11 August 2011