RAF airmen selected for GB bobsleigh squad
Senior Aircraftman John Baines from RAF Leeming, Corporal Stu Benson from RAF Cosford, and Corporal Keith McLaughlin from RAF Boulmer have been…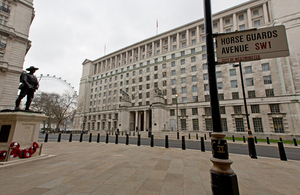 Senior Aircraftman John Baines from RAF Leeming, Corporal Stu Benson from RAF Cosford, and Corporal Keith McLaughlin from RAF Boulmer have been through a tough selection process over the last few months, culminating in a week of intense training and final trials at a winter training camp in Sigulda, Latvia.
The RAF trio will now compete with Team GB in the two- and four-man bob events at the world championships, which begin this month, and in the Europa Cup throughout the season.
An Aerospace Systems Operator at Boulmer, Cpl McLaughlin only began bobsledding in 2006, but has already represented his country for the last three seasons.
The 29-year-old believes that being in the Royal Air Force equips him well for his sport:
It's all about teamwork," he explained. "Teamwork is paramount in bobsleigh, and it is very much like being on detachment with the RAF - you live, sleep, eat and travel together for three to four months, building up the team and working together to get the best result we possibly can.
The airmen have been training hard throughout the off season, working on their general speed and strength. However, pushing, sprinting and loading into the bobsleigh is a difficult and extremely technical art, and training in Latvia has been intense, with the team having to get used to pushing a bobsleigh on ice after months of dry land training at Bath University - the home of UK bobsleigh.
For more news on the team, visit the British Bobsleigh website at Related Links.
Published 4 November 2011