RAF airman prepares for Hockey World League
An award-winning recruit at RAF Halton has been selected to represent Wales in the Hockey World League.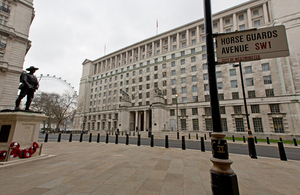 RAF hockey player Aircraftman Andrew 'Sio' Seimann will be representing Wales at the Senior Men's World League, of which round one begins next month.
Aircraftman Seimann, who began playing hockey at just nine years old, will play in the Wales team against Ireland, Sweden and Austria in the first round of the Hockey World League in Cardiff between 7 and 9 September.
Aircraftman Seimann, who left his former career as a firefighter to join the RAF, said:
I was looking for a career change, something that would challenge me further, and decided to join the RAF following in the footsteps of my cousin.
Aircraftman Seimann credits his firefighting career for instilling him with a will to succeed and get through basic training at RAF Halton:
In Llandudno we used to keep our kit and the station in good order which is a big part of training in the RAF. The discipline you have to employ as a firefighter also helped me get to grips with all the skills in the RAF that need discipline too.
The skills that Aircraftman Seimann has picked up or improved on in the RAF have helped his hockey game too. He said:
Fitness, discipline and teamwork are the most important things that I've taken across to hockey.

When you play hockey or other sports you have to work as a team. Hockey is a fast paced game so you have no time to argue with the umpires and coaches.

You have to listen to orders and that is something that you need to do in the RAF too.
Aircraftman Seimann's achievement in hockey comes hot on the heels of his success in recruit training. At the end of the intensive nine-week course at RAF Halton Aircraftman Seimann was awarded two trophies in recognition of his performance in Physical Education and Initial Force Protection Training.
He said:
When I won the trophies it was a moment of pride and honour. My parents were in the stands and it was great to see the smiles on their faces and show what I had achieved in the nine weeks.
Aircraftman Seimann will undoubtedly play hockey for the RAF in the future but at the moment he is focusing on the upcoming World League matches, and, hopefully, taking part in the World Cup.
Published 23 August 2012