RAF aircraft arrive in Malta with evacuees from Libya
Two RAF Hercules aircraft have landed in Malta carrying more than 150 people evacuated from desert locations south of Benghazi in Libya.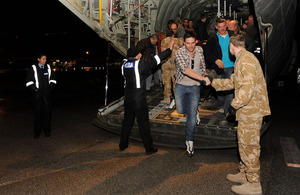 The passengers will be given food and water and offered full consular assistance at the airport. This includes immigration processing and a medical.
HMS York has arrived in Valletta to take on board stores in order that she can assist with the evacuation effort as required.
HMS Cumberland, which has already safely brought 207 people to Malta, is on her way back to evacuate more people.
Keith and Sue Rodgers were among those who were rescued from Libya by the Royal Navy. Mrs Rodgers, who teaches primary pupils at the British school in Benghazi, said:
It was very surreal because we could hear gunfire but could still pop to the shops to get items. It was in the last few days that the situation really worsened and we knew we had to go.
We live in a normal apartment block in the city and had never had any trouble before; the Libyan people are incredibly friendly.
Gaddafi is obviously a controversial character and at this time their society is going through big changes. We don't know if we will go back yet, for the moment we will go back home to Yorkshire.
The couple slept on a mess deck floor of HMS Cumberland as the ship took them safely north across the Mediterranean on Friday.
Mr Rodgers said:
We're very pleased with the way the Royal Navy treated us - there's no complaints. Like many passengers Sue was struggling with seasickness in the rough waters, but the important thing is we're safe and well.
The Navy deserve great credit for getting us on our way home.
HMS Cumberland was bound for her home port of Plymouth when she was tasked by the Government to assist with the evacuation of civilians from Libya.
Published 27 February 2011