RAF Air Commodore hands over command of Kandahar Airfield
The transfer of authority involved a ceremony inside an Afghan Air Force hangar at the base where the British Commander of Kandahar Airfield…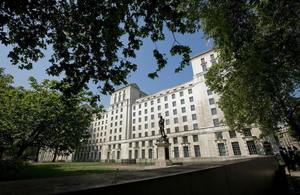 The transfer of authority involved a ceremony inside an Afghan Air Force hangar at the base where the British Commander of Kandahar Airfield, Air Commodore Gordon Moulds, who has been in charge for the last six months, handed over command to Brigadier General Jeffrey B Kendall of the United States Air Force.
Elders from all of the villages within the ground defence area of the air base attended the ceremony and Air Commodore Moulds welcomed them, explaining:
You're the reason that we're here and you are always at the forefront of our minds as we work together for a better Afghanistan.
Air Commodore Moulds explained how he'd seen the air base grow by approximately 20 per cent during his time in post. At the same time he said:
The Afghan Air Force has developed immensely. When I first got here, the mentors were doing most of the flying.

The Afghan Air Force is very professional and [the pilots] are now conducting operations; in fact the security for the Afghan elections was done by the Afghan Air Force themselves.
However, there will still be more than 1,000 British personnel carrying out operations from Kandahar Airfield with the C-130 Hercules aircraft and the Tornado GR4s operating under the Officer Commanding 904 Expeditionary Air Wing.
The Reapers of 39 Squadron continue to fly from Kandahar and the security for the base remains firmly under the lead of the Royal Air Force Regiment, currently 51 Squadron, under the command of No 5 Force Protection Wing.
Air Commodore Moulds is moving to a post in the air worthiness organisation on his return to the UK, but he will miss Afghanistan:
One day in the future I hope to return to this wonderful country," he said.
Published 16 November 2010