Press release
Radio released from shackles
Government launches consultation to overhaul regulation of national and local radio stations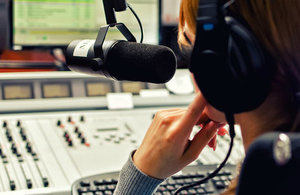 New plans will mean local radio will no longer have to seek Ofcom's permission over content

Launch of consultation coincides with World Radio Day
Commercial radio stations will no longer be shackled to an outdated regulatory system under new plans announced by Government on World Radio Day.
At present, commercial radio has to abide by a series of complex rules regarding content which are enforced by Ofcom, many of which were devised in the late 1980s before the emergence of digital technologies.
But Government has announced today that it is consulting on changes to the rules that govern much of the programming decisions, and is proposing to give greater flexibility to local radio stations in particular, so that they can have a say in their own content.
It will further mean that DJs will be free to play more of the music and content they and their listeners want, when they want, without their station needing Ofcom's permission.
Stations will also be able to network more of their services across different stations, allowing them to showcase star presenters throughout the day including at breakfast time.
Minister of State for Digital and Culture Matt Hancock said:
In a time of extraordinary change, radio has thrived. But the way commercial radio is regulated is increasingly outdated and holding it back from investing in new content, services and platforms. All these things are essential for radio to stay relevant, especially in an age of unregulated internet audio services.
So I'm delighted to announce on World Radio Day that we will be asking industry and members of the public for their views on the deregulation of local radio.
Under our new proposals we will be giving local radio stations more freedom and flexibility to meet the needs of listeners across the country.
As part of the plans, local radio stations will be given more choice on what content they broadcast, and how they produce it, whilst protecting commercial radio's important role in the provision of national and local news and other core information such as travel and traffic information.
Stations will have more resources to invest in new ways of attracting and keeping radio listeners including younger listeners who are at risk of moving away from listening to traditional radio.
Stations will however, still be required to provide national and local news and other local information, services highly valued by listeners. This requirement will be further extended to include digital radio for the first time.
This announcement comes at a time when broadcasters around the world are celebrating Unesco's sixth annual World Radio Day. This year's theme, Radio is You!, is centred around how radio stations engage with their audiences, and will prove timely given the focus of this new consultation.
Siobhan Kenny, CEO of Radio Centre said:
Radiocentre welcomes the Government's announcement wholeheartedly as we have been asking for the existing rules on both music output and how and where content is made to be updated. Most of the rules are over 20 years old, so effectively designed for a pre-internet age. With 45% of radio listening now on digital platforms and new competition from streaming services, it is high time legislation caught up. The times have already changed so this is excellent news.
Andrew Bingham MP, Chairman of the All-Party Parliamentary Group (APPG) on Commercial Radio, said:
I'm really pleased that the Government is backing commercial radio by updating the outdated rules which govern the industry. Commercial radio is incredibly popular across the country and the proposed changes will help stations compete even more effectively in future. The APPG will be meeting shortly to discuss the implications of consultation.
Take part in the Commercial radio deregulation consultation
Notes to Editors
In its sixth year, World Radio Day was first launched by UNESCO to increase general awareness of radio's ability to change lives, and to encourage decision-makers to provide access to information through radio. Held annually, the day emphasizes radio's profound community impact, as well as its economic and cultural value, and celebrates high quality broadcasting from both public and commercial stations.

The theme for 2017 – Radio is You! – is centred around how radio stations engage with their audiences. As well as on-air interaction, the initiative calls for greater audience participation.

The deregulation consultation does not propose include any changes to the licensing requirements for the three national analogue licenses - these are held by Classic FM, Absolute Radio and TalkSport - or to the licensing structure for community radio services. All three licensees have the ability to renew their analogue licences until 2023.

The consultation follow's work carried out by Ofcom and published in February 2016 setting out possible options for reform.
Published 13 February 2017