Radio 1 links up with BFBS Camp Bastion
Star DJs from BBC's Radio 1 conducted a series of live links with the British Forces Broadcasting Service (BFBS) team in Camp Bastion, Afghanistan, throughout Bank Holiday Monday yesterday.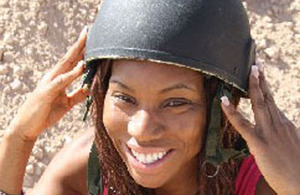 BFBS presenters Richard Hatch and Jessie Aru, based at the studio in Camp Bastion, did several live links with Fearne Cotton, Dev, Greg James and Scott Mills during their regular Radio 1 programmes.
The live links gave British troops based in Helmand province the chance to request songs and send messages to their friends and families in the UK.
And, in the middle of the day, from 1200hrs to 1400hrs, the entire Forces world, in more than 20 countries from the Falklands to Afghanistan, joined up for a simulcast, including the UK forces audience listening to BFBS on DAB digital radio and the wider UK audience on BBC Radio 1.
A Radio 1 production team had joined BFBS Radio in Camp Bastion in the week leading up to yesterday's unique broadcasting event to interview troops and create content for the broadcast day.
The timing of the tie-up comes as BFBS Radio is still celebrating its Sony Radio Academy Special Award made on 10 May in recognition of 'a contribution by BFBS to the radio industry that reaches beyond the normal bounds of the awards'.
Nicky Ness, Controller of BFBS Radio, said:
Being on the ground with our Forces, living cheek-by-jowl with our audience, is what BFBS Radio is all about. The launch last year of our studio in Camp Bastion was particularly special as it is the first front line operational station to open since we launched on DAB in the UK earlier last year, so for the first time in our 65-year history we are connecting the troops in theatre live and direct with their families at home.
And this tie-up with BBC Radio 1, bringing this priceless link to the whole of the BBC Radio 1 audience, is absolutely brilliant. In one special day we can show the world what we do day-in, day-out across the Forces world.
Rhys Hughes, Executive Producer, BBC Radio 1, said:
This is the first time BBC Radio 1 has teamed up with BFBS to broadcast direct from Afghanistan and we're proud to be working with them. Giving our servicemen and women the chance to broadcast dedications to loved ones back home is the very least we can do to support the incredibly important work they do.
BFBS had a radio station on the ground throughout the Iraq war, with its presenters often having to don body armour and hit the deck whilst on air.
Once British forces drew down from Iraq, the radio station moved to Afghanistan and BFBS Radio went live on air at 0630hrs local Afghan time on Monday 26 October 2009.
Published 1 June 2010