Racing legends honour British troops
The IndyCar 500 team has visited RAF Honington in Suffolk to formally thank serving personnel for their support to operations in Iraq and Afghanistan.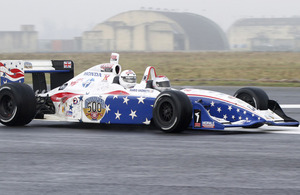 The IndyCar 500 team includes the retired Italian-American world champion racing driver Mario Andretti, John Sherman Rutherford III, who is one of nine drivers to win the prestigious Indianapolis 500-mile race at least three times, and Sarah Fisher, who became the first female to stand on the podium with her third-place finish at the Kentucky Speedway.
The team wanted to come to Royal Air Force Honington to thank British forces for their continuing effort on operations. There was a presentation and a short question and answer session followed by a ticket draw in which 20 lucky serving personnel won a free ride up and down the airfield in a racing car, attaining speeds of approximately 180mph [290km/h].
In addition to the IndyCar team, Mr Terry Grant, a world-renowned stunt driver, also demonstrated his abilities. The audience were very impressed with his driving ability as he performed 'doughnuts' around the IndyCar team personnel, leaving only a few inches of breathing space.
RAF Honington is the home of the RAF Force Protection headquarters and four RAF Regiment squadrons. The RAF Regiment has personnel constantly deployed to Afghanistan to provide protection to the main bases where British troops are located.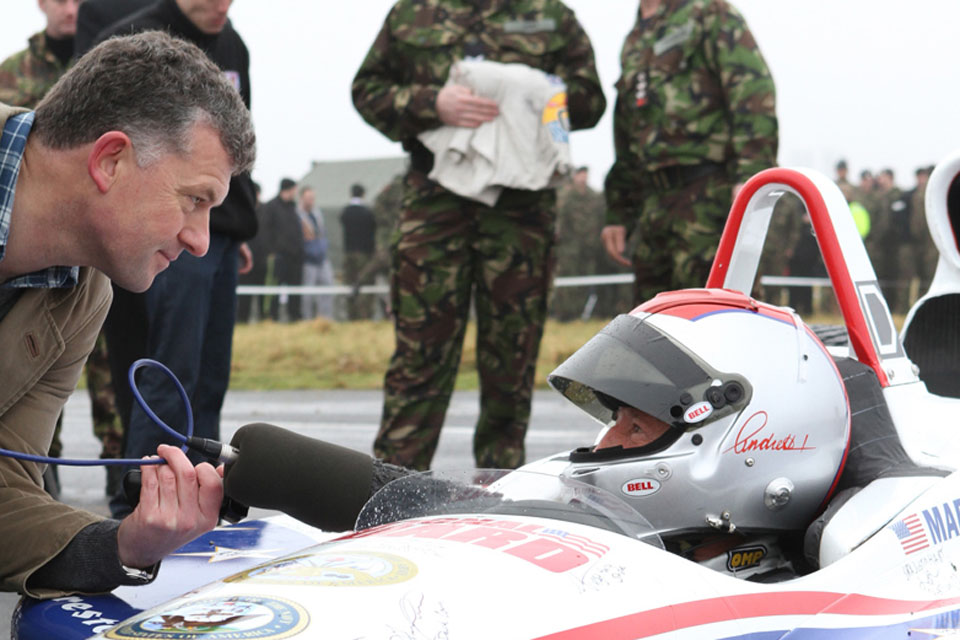 Captain Iain Thomson, from the station, said:
Today was absolutely fantastic for all who participated. It gave them all an exposure normally far out of their reach and allowed legends from the motorsport community to engage with those whom the Indy team believe are legends of the military.
One of the lucky winners who had a ride in the racing car said:
That was absolutely outstanding, a once-in-a-lifetime opportunity.
Wing Commander Lee Morgan, also from the station, said:
It is a privilege and honour for RAF Honington to host the IndyCar 500 centenary tour. Having sporting legends like Mario Andretti and Johnny Rutherford on the station paying tribute to the contribution of UK forces on operations throughout the world has meant a lot to the airmen and soldiers who serve at RAF Honington.
The day has gone extremely well and has been great fun for all those involved; a chance-in-a-lifetime to rub shoulders with motor racing greats and a lucky few felt the exhilaration of riding in an Indy or rally car at speed on the station runway. It has been a great way to recognise the efforts of our men and women here at RAF Honington.
Published 21 January 2011