Press release
Quiz the Coastguard at Southampton Boat Show
The way the Coastguard coordinates search and rescue operations on our coast and out at sea is changing.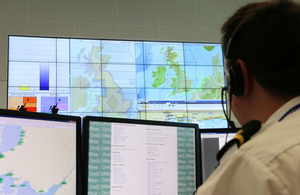 A new national network of 10 coordination centres is being set up, with a new National Maritime Operations Centre (NMOC) in Hampshire at the heart.
The public and sailors alike will now get the chance to learn more about the changes at this year's Southampton Boat Show. Coastguards will be on stand J029 in Mayflower Hall from 12 – 21 September 2014.
Tristam Newey, Coastguard Commander at the NMOC, said:
Changes being made to the Coastguard will see a new national network which will be able to balance out the workload between all of our Coastguards around the country. This means they'll be a much bigger and better support network able to step in and help out if one of our UK centres is dealing with multiple incidents.
More than 2,000 leisure craft have been helped by the Coastguard in the past year alone (1 September 2013 – 1 September 2014). The incidents ranged from boats running out of fuel, dismasted yachts, to vessels running aground and boats taking on water and then sinking.
The response to all these search and rescue incidents will remain the same with the new set up. Coastguard Rescue Teams, lifeboats, rescue helicopters and other rescue units that are sent out to help will be unaffected.
Tristam added:
The key thing for people to remember is that we're still here to help you. If you get into difficulty, or spot someone else in trouble, please call 999 and ask for the Coastguard or contact us via VHF DSC or VHF Channel 16.
Maritime and Coastguard Agency press office
Press enquiries 020381 72222 (Monday to Friday, 9am-5pm)
Outside these hours, for emergency press enquiries only please dial the above number. You will hear a message giving an out of hours pager number.
Published 12 September 2014