Question Time: Climate Change
A panel led by Foreign Secretary William Hague answered questions on climate change from an international audience on 8 November.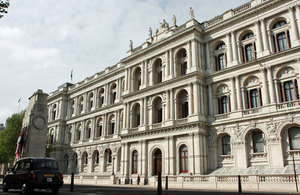 The Question Time: Climate Change event linked audiences of young people in the UK and South Africa, host of the UN COP17 Climate Summit, and was webcast live to an international audience.
The panel answered questions on a range of topics, including the UK's policies to cut its own emissions, COP 17 in Durban and the role of governments and wider society in the international negotiations, and how young people across the world can engage in the climate debate.
Ahead of the UN COP17 Climate Summit in Durban, beginning on 28 November, an international conversation is continuing on how the world responds to the threat of climate change.
Young people will face the risks and opportunities brought by climate change, and are a vital voice in the debate. The Question Time: Climate Change event, at the Foreign and Commonwealth Office in London, was an opportunity to join that conversation.
Joining the Foreign Secretary were Chris Huhne, Secretary of State for Energy and Climate Change, Ambassador Mxakato-Diseko of South Africa, and Martin Davidson, Chief Executive at the British Council. Television presenter Rick Edwards chaired the discussion and put questions from the international audience to the panel.
Foreign Secretary William Hague said:
"Climate change is perhaps the twenty-first century's biggest foreign policy challenge. We all have a responsibility to tackle this threat and the decisions we take now will have a profound effect on future generations.
"Young people in the UK and across the world play a critical role in the climate debate, and it is essential that their opinions are heard through events such as this. As we approach Durban, we all have an important duty to show the next generation the leadership needed to build international consensus on this vital issue."
Secretary of State for Climate Change Chris Huhne added:
"It's hugely important young people's voices on climate change are heard and I'm really pleased so many took part in the Question Time event. Making the shift to a low carbon economy in the UK will create new markets and exciting job opportunities for the next generation as well as providing a more sustainable future.
"We pledged we'd be the greenest government ever, so as well as the action we're taking at home we'll be working for further progress towards a global deal at the next international climate talks at Durban in South Africa later this month."
Published 8 November 2011