World news story
Quenching the Thirst for Water Innovation: An Israeli Delegation Arriving to the UK in Pursuit of Partnerships
The UK Israel Tech Hub at the British Embassy in Israel is taking a mission of 14 Israeli water technology companies to the UK on the 4-7 March.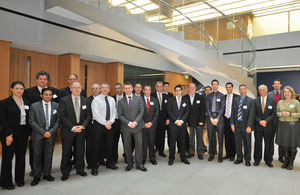 The UK Israel Tech Hub at the British Embassy in Israel is taking a mission of 14 Israeli water technology companies to the UK on the 4-7 March. The mission will participate in the World Water Tech Investment Summit, where five of the companies of the delegation will be presenting. The Israeli companies will meet leading UK engineering firms, water utilities and supply chain companies. The delegates represent some of the most innovative companies in their field, and offer state of the art solutions in desalination, wastewater treatment, smart water and drip irrigation.
This mission is a key component to the Hub's initiative to strengthen water tech partnerships between the UK and Israel. The delegation consists of a group of small and fast-growing businesses as well as large water corporations. These companies are coming to the UK with the intention of growing their businesses, identifying partners to collaborate on projects in the UK and internationally.
Key elements of the mission include:
Arup Group Limited hosting the Israeli water tech companies for a day of debate and discussion that will explore opportunities to jointly capitalize on global water market opportunities.

A workshop hosted by Atkins and DLA Piper that will gather representatives from the UK water industry to meet the Israeli delegation in pursuit of joint projects in British municipal and industrial markets.

British Ambassador to Israel, HE Matthew Gould, will meet the delegation in London and deliver opening remarks at Bloomberg New Energy Finance's inaugural Water Briefing reception, organized in partnership with the Commercial Office at the Israeli Embassy in London.
"There is enormous potential for a partnership between British business and Israeli water tech," says British Ambassador to Israel, Matthew Gould. "Israeli water tech can go global through partnering with British business, and British business can get a global competitive advantage from partnering with Israeli water tech. There are huge synergies to be had. Whether it is Israeli start-ups teaming Britain's world-leading engineering consultancies to reach their global clients, or enabling British industrial companies to treat their wastewater more efficiently and at lower cost, water-tech partnerships can deliver tremendous value both to Israel and to the UK."
"To meet the needs of a global water market we need to explore innovative solutions throughout the supply chain. We have a track record of using our strong international position to bring together new ways of working.", says Mark Fletcher, Global Water Leader at Arup, "We look forward to hosting this Israeli water delegation and identifying short and long-term opportunities to work with Israeli businesses to deliver value to our clients."
Notes to Editors
About the UK Israel Tech Hub:
The UK Israel Tech Hub was launched in October 2011 at the British Embassy Israel. The Hub's mission is to promote a partnership in technology between the UK and Israel, as a means of boosting innovation and economic growth in both countries. The Hub helps identify and bring innovative Israeli technology to British companies, and helps Israeli tech companies work with the UK as a partner of choice in their global growth.
Further information about the UK Israel Tech Hub
Follow us on Twitter.
Visit our website.
Join the UK Israel tech discussion.
About the World Water-Tech Investment Summit:
The 2013 World Water-Tech Investment Summit is a networking event for the international water industry this year. An extraordinary group of speakers has been assembled from around the globe to discuss how to accelerate the adoption of new solutions in the mainstream water market. The goal of the summit is to foster new business partnerships and provide opportunities for networking with international representatives from utilities, engineering consultancies, technology developers and investors. The Israeli delegation includes: Kinrot Ventures, Booky Oren Global Water Technologies, Mekorot, Applied CleanTech, Aqwise - Wise Water Technologies, RWL Nirosoft, Mapal Green Energy Ltd , AGM Communication & Control Ltd, IOSight, Whitewater Technologies, Top-It-Up, Netafim, TaKaDu
For further information, contact Yehudit Newman, Technology and Science Media Assistant at the British Embassy Israel, Tel: 052 447 2394.
Published 4 March 2013