News story
Queen's Speech 2013: overview
The Queen's Speech 2013 included announcements about immigration, pensions, caring, consumer rights and strengthening economic growth.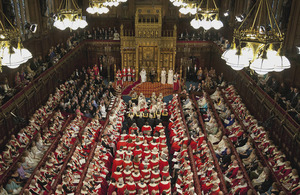 The government has published a Queen's Speech based around backing people who work hard and want to get on in life.
The Queen's Speech focused on legislation that unlocks the potential of the people of the UK to unleash their talents.
The Prime Minister and Deputy Prime Minister stated:
In May 2010 we came together to govern in the national interest. We knew the road ahead would be tough and so it has proved to be. But 3 years on, our resolve to turn our country around has never been stronger. We know that Britain can be great again because we've got the people to do it. Today's Queen's Speech shows that we will back them every step of the way. It is all about backing people who work hard and want to get on in life.
The speech includes:
a Social Care Bill which will end the situation where people who have worked hard all their lives have to sell their homes to fund their care
a Pensions Bill which will create a simple, flat rate pension that encourages saving and helps women who have had long career breaks
an Immigration Bill will further reform the immigration system by tightening immigration law, strengthening enforcement powers and clamping down on those from overseas who abuse UK public services
a National Insurance Contributions Bill which will cut the cost of recruiting new employees, meaning up to 1.25 million employers will benefit, with around 450,000 of these taken out of paying employer NICs altogether - one third of all employers
a Consumer Rights Bill to promote growth through competitive markets - covering consumer rights including goods, services, digital content and unfair contract terms
a Rehabilitation Bill which will radically overhaul how we deal with offenders coming out of prison
Other measures set out in the speech will help Britain compete better in the global race by cutting unnecessary regulations, modernising the rules on intellectual property and encouraging investment in the energy sector.
Queen's Speech 2013: the speech, briefing notes and announcements
Published 8 May 2013