Queen's Royal Lancers train new generation of Afghan police
Thanks to the training they have received from ISAF soldiers, 90 more recruits have just qualified as fully-trained Afghan National Police (ANP) officers.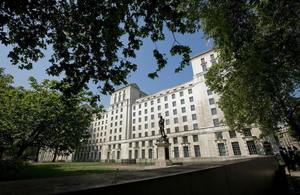 Amongst the ISAF forces training the new Afghan National Police at the Helmand Police Training Centre in Lashkar Gah are soldiers from B Squadron of the Queen's Royal Lancers.
The training centre runs eight-week courses for both ANP patrolmen and non-commissioned officers. At any one time up to 540 patrolmen and 90 officers are in training.
Recruits are taught vital military skills, policing skills, first aid, literacy and how to counter improvised explosive devices.
They also spend time with senior ANP officers learning the subtleties of the role of a policeman in Helmand and the importance of working with the people.
B Squadron soldiers are responsible for both mentoring and instructing ANP recruits, along with soldiers from the US Army and US Marines, British infantry soldiers, the Royal Military Police and civilian police.
The training begins with basic skills and builds towards a series of final exercises including running checkpoints on the main routes in Lashkar Gah.
The training culminates with a parade and presentation before the patrolmen deploy to their districts.
Major Ben Horne, Officer Commanding of the Helmand Police Training Centre, said:
What the soldiers of the Queen's Royal Lancers are achieving here is incredible.

The ANP have a chequered past but the attitude and determination of some very young soldiers is achieving hugely positive results with the recruits, borne out by reports from ISAF units working with graduates out in the districts of Helmand.

The recruits leave the training centre with the skills required to fight the insurgency and the knowledge to provide protection to the people of Helmand.
Published 5 July 2010