World news story
Queen's Birthday Party Speech by H.E. Vicki Treadell
The British High Commissioner to Malaysia, Her Excellency Vicki Treadell, spoke at the annual Queen's Birthday Party celebrations.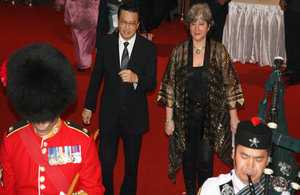 QUEEN'S BIRTHDAY PARTY THURSDAY 11 JUNE 2015 SPEECH BY THE BRITISH HIGH COMMISSIONER
Welcome!
Today we celebrate the birthday of Her Majesty Queen Elizabeth II.
Welcome to our Queen's Birthday Party.
Welcome to our National Day.
As those of who you have been guests at our QBPs in the past, this year, I hope you have noticed, we thought we would do:
Something a little bit different;
Something a little bit more fun and contemporary;
Something iconic.
Something that speaks of Modern Britain, a Britain driven by Innovation;
Indeed Great Britain has many icons, whether places, institutions, in the field of art & culture, or science, and of course people.
Today, with the Queen's birthday, we also want to celebrate British icons like Jaguar, Land Rover, McLaren and Mini and our amazing song book of British Music which our bands tonight will bring alive on this stage.
For me from top to toe: my haircut – Tony & Guy – to what I am wearing - a blend of British High Street – my jeans from TopShop - & High Fashion – my Zandra Rhodes jacket – & on my feet Russell & Bromley shoes – iconic British Brands.
On occasions like this we also take the opportunity:
To reflect on our bilateral relationship with Malaysia;
To consider the shared journey we have made;
To review the pages of history that we have turned together from our colonial to our post- colonial reality.
But, like every great story, it has had highs, it has had lows, it has had passion, it has had sub-plots and twists and turns, it has had shared endeavour. It leaves you wanting to know what the next chapter holds.
And The Queen has been a part of this story.
Over her reign she has visited Malaysia three times in 1972 as part of her 20th anniversary Jubilee tour, 1989 to attend CHOGM & in 1998 for the Commonwealth Games.
She has known six Malaysian Prime Ministers from Tunku Abdul Rahman to Prime Minister Najib today.
She has also known 12 British Prime Ministers over her reign from Winston Churchill to David Cameron.
And what of the James Bonds she has also encountered from Sean Connery to Daniel Craig with whom she daringly jumped out of a helicopter with for the spectacular opening of the London Olympics in 2012!
When Tunku Abdul Rahman called out "Merdeka" seven times in 1957, she had been Queen for just over 5 years.
The Duke of Gloucester represented Her Majesty on that day, at what is now called Merdeka Square, and when he handed over the Constitutional Instrument, on behalf of The Queen, a new proud nation – Malaysia - was born.
In his address to the thousands gathered Tunku Abdul Rahman said "Let us united face the challenge of the years. And so, with remembrance for the past and with confidence for the future, under the Providence of God we shall succeed".
From that moment, and in each successive decade since, from the 20th to the 21st century, we have re-defined and built a new relationship with Malaysia. Today's relationship is one of partnership and collaboration. It is a Modern relationship. It is a Relevant relationship. David Cameron's visit to Malaysia in 2012 affirmed this. We have re-engaged. We have refreshed our relationship. Britain is Back …& so is British Airways!
To echo the words of Tunku Abdul Rahman at Merdeka:
Together we can address the challenges ahead.
Today we do not just remember but have built on the solid foundations of the past.
We are investing with confidence for the future.
Let me illustrate this.
We undertook a survey of the top 20-25 British companies in Malaysia, just these companies alone account for:
Over 70k Malaysian jobs
A total of over RM86 billion of investment in Malaysia
They account for almost RM8 billion of Malaysian exports per annum
They pump in over RM6 billion for R&D in Malaysia per annum
This is not just a record to be proud of, it is testimony to the British presence in Malaysia and our commitment to be part of the Malaysian Growth Story. But, of course this is not a one way story. It is a story of a modern and bold Malaysia looking to the world too.
A Malaysia as Chair of ASEAN that will see in the AEC by the end of the year.
A Malaysia with a seat at the top table on the UNSC.
A Malaysia that is an important trade and investment partner.
Malaysian investment in Britain is also transforming Britain and literally part of our regeneration – Battersea Power Station, a British Icon, reborn because of Malaysian vision and investment. I see Tan Sri Liew here tonight, thank you for your vision and to the Malaysian consortia behind this development – SP Setia, Sime Darby and the EPF.
Many UK & Malaysian companies are establishing strong partnerships and looking to the world together.
And again, the story on Education has changed.
Our relationship with Malaysia is not just about Malaysian students – some 16,000 currently – studying in the UK – but bringing the British offer here to be part of Malaysia's story. Through partnerships between British and Malaysian academic institutions a further 58,000 Malaysian students are pursuing British degrees right here in Malaysia. Our universities are also investing in Malaysia's future, five British Universities – Nottingham, Reading, Herriot Watt, Southampton and Newcastle – have campuses in Malaysia. Their presence here is enhancing Malaysia's education offer.
British Schools are also entering the market with Marlborough and Epsom College already established. The presence of these British institutions is helping Malaysia establish herself as a regional Education Hub. Our British Council operation is also a vital part of our engagement with Malaysia, for example the work it does for the Ministry of Education in enhancing the capability of English Language Teachers in Malaysian schools.
English is the lingua franca of the modern age, it is the international language and with it Malaysians have a competitive advantage. And Britain will do more in support of the ambitions set out in Malaysia's Education Blueprint. Watch this space …there is another chapter on this sub-plot alone!
And on Defence & Security we are no less engaged. Indeed in selecting our latest Defence Adviser we have in Col. Stephen Hall a Bahasa speaking alumni of the Malaysian Staff College from the 1997 cohort. Our commitment to the Five Powers Defence Agreement continues.
Just in my time here, since October last year, we have seen our Foreign and Defence Ministers meet at least twice. We have had other high profile visitors, including two Mayors:
most recently The Lord Mayor of The City of London with a focus on Islamic Finance and how Britain and Malaysia can work together to develop the Global Islamic Finance Market; and
who can forget, The Mayor of London, Boris Johnson, last November with his ride on the KLIA Express and on a bicycle with Dato' Bandar.
And with Malaysia, on the UNSC, we are committed to working together on the key global agenda issues of the day like:
Countering extremism – dealing with the threat of ISIL and the risk to our own people such as the radicalisation of our youth; and
Climate change – with the Paris COP coming up courage is needed to push the agenda and we would like to see Malaysia stand up and closer align with us and the EU. Climate Change is affecting all of us – you need only cast your minds back to the dreadful floods we saw affecting Kelantan and other East Coast States.
For Her Majesty, and The British Government, our relationship with Malaysia is also one within a wider family, The Commonwealth Family. This is not something we talk about as often as we might. But Her Majesty is the Head of the Commonwealth, and Head of State, to 16 of its 53 members. Each nation within this family has signed up to a set of shared Values. These are values she holds close. They are worth reminding ourselves about today, they include:
Democracy
Human Rights
Tolerance, respect & understanding
Freedom of expression
Separation of Powers
The Rule of Law
Good Governance
It is not always easy to live up to these but try we must as citizens, as governments, as nations. We must remember the foundations of our democracies and the aspirations of our founding fathers (& mothers).
For Britain the journey goes back further in time, on Monday next week, 15 June, we celebrate the 800th anniversary of the Magna Carta. A time in Britain's history when one of The Queen's predecessors, King John, realised that to regain his people, a new order was required. The Magna Carta established that everyone, including the King, was subject to the law, that every free man had the right to justice. I am pleased to note that one of the original copies of the Magna Carta will be coming to Malaysia later this year. It will be an opportunity to celebrate a seminal point in the history of democracy, its legacy touches us all still today.
So, we look to the future and further strengthening our ties, to turning the page to yet another chapter of our story. Thank you for listening, thank you for coming to celebrate our Queen's Birthday Party with all of us at the British High Commission and our partners. Let me now turn to an important formality of these occasions.
The Honourable Dato' Seri Liow Tiong Lai, Minister for Transport of Malaysia. Your Excellencies. Ladies & Gentlemen. May I invite you to join me in a toast for the good health & well being of His Majesty the Yang di-Pertuan Agong, the success & prosperity of the Government & People of Malaysia.
END
Published 15 June 2015