World news story
Queen's Birthday Party in Uganda
This was published under the 2010 to 2015 Conservative and Liberal Democrat coalition government
British High Commissioner hosts national day reception in Kampala.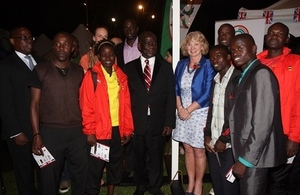 His Excellency Edward Ssekandi, the Vice President of Uganda, government ministers and members of parliament were amongst the hundreds of guests who attended the Queen's Birthday Party at the Residence of Her Excellency Alison Blackburne, British High Commissioner to Uganda, on 11 Jun 2014. The reception marked the official birthday of Her Majesty Queen Elizabeth II.
In her speech, the High Commissioner looked forward to the 20th Commonwealth Games which will be held in Glasgow next month. She wished the Ugandan team the very best of luck for the Games. She also spoke of the UK's long standing and dynamic partnership with Uganda, based on shared history, enduring friendship, and vital political and cultural links.
The High Commissioner expressed her gratitude to the Minister of Defence and Deputy Foreign Minister of Uganda, who were in London to attend the End Sexual Violence in Conflict Summit – an important global call to action to end the use of rape and sexual violence in conflicts around the world. Ugandan government officials, civil society and academics had the previous day contributed their knowledge and best practice to strengthen this work during a mini summit held at the High Commission.
A selection of Scottish malt whiskies, as well as traditional Scottish delicacies, including haggis, were served at the event. British cheeses and English sparkling wine were also sampled by guests attending the evening reception.
The High Commissioner spoke of the important role played by UK companies operating in Uganda, and contributing to Uganda's development. She offered a special vote of thanks to the UK companies which had sponsored the Queen's Birthday Party:
Uganda Breweries Limited
G4S
Standard Chartered
Tilda Uganda Limited
Tullow
Unilever
FBW
Umeme
Aggreko