World news story
Queen's Birthday Party in Madrid
Great Britain is the home of creativity and open to talent, says Ambassador Simon Manley at the Queen's Birthday Party in Madrid.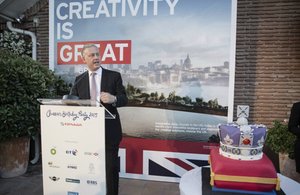 The strength of Britain's extraordinary creativity was highlighted at the Queen's Birthday Party in Madrid on 18 June.
More than 600 leaders from the Spanish worlds of politics, business and industry attended one of the most popular diplomatic national day events, where they discovered the very best of British food, drink, arts and design, and celebrated the Official Birthday of Her Majesty Queen Elizabeth II.
Speaking at his Official Residence, the British Ambassador Mr. Simon Manley, CBE, said:
Tonight we are not just celebrating the birthday of HM The Queen. We are also celebrating British creativity: of our fashion, food and drink, industrial design and cultural industries, be it our dance, our theatre, our music or our film.
Creativity is GREAT Britain. That creativity is forged out of our open society, an open society that cherishes and defends freedom of speech and in which ideas can blossom. A society that is open to the foreign talent and foreign investment, and considers diversity a source of enrichment.
Mr. Manley added:
Creativity is vital for the future of both our countries. Because in this global century, success will come to those who have the ability to be flexible and embrace change. That's the challenge for our two great nations, and also our European Union.
Mr. Manley unveiled a new portrait of HM The Queen by renowned British photographer David Bailey, whilst actors representing famous British literary and film characters, such as Sherlock Holmes and Mr Bean, mingled among the guests.
Top British brands in Spain
Britain's global drinks industry was represented by names including Cardhu Gold, Johnnie Walker, Pimm's and Tanqueray No. Ten. British-Indian fusion food was served by Michelin-starred Benares restaurant, which opens in Madrid in September.
More examples of British creativity included a birthday cake in the shape of the Crown Jewels, and displays by top British fashion, fragrance and motoring brands including Barbour-Triumph, Ben Sherman, Jo Malone and Mini.
Follow #QBPMadrid2015 for more news and photos of the Queen's Birthday Party.
Published 19 June 2015
Last updated 19 June 2015
+ show all updates
Added translation
First published.