World news story
Queen's Birthday Party held in Yerevan
The British Embassy in Yerevan recently celebrated the Queen's 90th birthday.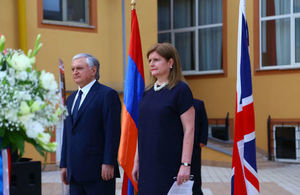 On 15 June, the British Embassy in Yerevan hosted the traditional Queen's Birthday Party. Many honorable guests from the Armenian Government, National Assembly, business, the British community in Armenia, along with many of our other partners and friends joined us in celebration.
Her Majesty's Ambassador to Armenia Judith Farnworth said in her welcoming speech:
This year we were marking a historic Queen's Birthday. As many of you will know, Her Majesty has reached the age of 90, and since September 2015, has become the longest reigning monarch, having accredited to the throne over 64 years ago. The Queen's unstinting service not just to the United Kingdom but the entire Commonwealth is truly an inspiration.
The Guest of Honour Edward Nalbandian, Minister of Foreign Affairs of the Republic of Armenia mentioned in his speech:
Armenia highly values its relations with the United Kingdom. The Armenian-British friendship goes back to the depths of centuries. Back in the 13-14th centuries, the Kings of Armenian Kingdom of Cilicia had close ties with the English Monarchs, and even conducted mediatory mission between France and England. Several centuries later, by a Royal Charter, the Armenian merchants were granted the status of "Free Citizens of England" for services paid to trade companies of England in India.

Since the independence of Armenia, our relations entered a new stage and are dynamically developing. Indeed, we constantly feel the need of further actions, the importance to further develop political, economic, cultural and humanitarian cooperation, and the willingness to further enrich and expand our bilateral agenda. I have always noticed such readiness also during the meetings with my British colleagues.
Read the full text of the Minister's speech here..
The Queen's Birthday Party is a great opportunity to showcase the British lifestyle, traditions and culture. At our party we served traditional British food and drinks such as fish and chips, roast beef, cheeses, Scottish, Welsh and English whiskies, English beer and cider. Guests were entertained by musicians playing live jazz music and cheerful British and Irish folk songs.
Visit the British Embassy Yerevan's Facebook page for more photos of the Queen's Birthday Party.
Published 17 June 2016