World news story
Queen's Birthday Party 2018 in Astana, Kazakhstan
On 15 June 2018 the British Embassy Astana held a reception to celebrate HM The Queen's Birthday.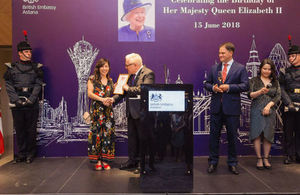 The Queen's Birthday is the UK's National Day. While Her Majesty's birthday falls on 21 April, the occasion is officially celebrated in London in June, when the Trooping the Colour ceremony is held.
It is a day for celebrating everything that makes Britain a GREAT place to live, work, study and do business.
The event not only marked The Queen's official birthday but also the strong relations between the UK and Kazakhstan.
His Excellency Mr Michael Gifford said:
This year we celebrate Her Majesty's 92nd birthday. She has been Queen since 6 February 1952 and has been served by 13 British prime ministers, the first of whom was Winston Churchill. In a rapidly changing world, she and the other members of the Royal Family are a focus for continuity, public affection and national identity for millions of people in the United Kingdom and in her 15 other Commonwealth realms, including Canada, Australia and New Zealand.

On 19 January 1992 the United Kingdom became the third country in the world to recognise the newly independent Republic of Kazakhstan. With each passing year since then our relations with Kazakhstan have flourished and deepened.

Kazakhstan really matters to Britain. We are the sixth biggest investor. Over 500 British companies are commercially active here, from oil and gas to agriculture, infrastructure to education, hi-tech to financial services.

We have an exciting and dynamic strategic partnership, based on common interest, mutual respect and friendship – and a shared belief in free trade, the global market economy and the rules-based international system. The UK firmly supports President Nursultan Nazarbayev's ambitious and forward-looking programme of economic and social reform.
Published 20 June 2018