Queen's Birthday Honours 2010
Details of the list of recipients of Queen's Birthday Honours in 2010 from the Department for Education.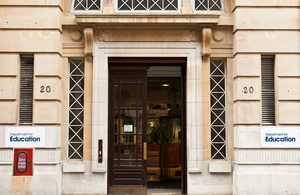 Queen's Birthday Honours list was published on Saturday 12 June. In total 89 people received awards from across the Department's spectrum of responsibilities. The list is given below.
Naila Zaffar, Headteacher of Copthorne Primary School in Bradford, received a damehood (DBE) for services to education.
A CBE was awarded to Elizabeth Burnley, Chief Guide, Girlguiding UK, for services to young people.
David Bell, Permanent Secretary at the Department for Education, said:
Outstanding service and achievement deserve to be recognised. I congratulate all those who have received an award. Through their work, they are helping to raise educational standards across the country and ensuring that every child and young person fulfils their potential, whatever their background or circumstances.
Award
Forename
Surname
Short Citation
DBE
Naila
Zaffar
Headteacher, Copthorne Primary School, Bradford. For services to local and national education
CB
Lesley
Longstone
Director-General, Young People, Department for Education
 
CBE
Elizabeth
Burnley
Chief Guide, Girlguiding UK. For services to young people
Alan
Clarke
Deputy Director, Curriculum & Pupil Wellbeing, Schools Directorate, Department for Education
Peter
Collins
Chief Executive, Salford Foundation Charity. For services to young people
David
Gregory
Headteacher, Fosse Way Community Special School, Bath. For services to special needs education
Prudence
Leith
Lately Chair, School Food Trust
Jo
Shuter
Headteacher, Quintin Kynaston Community School, City of Westminster, London. For services to local and national education
Neil
Suggett
Headteacher, Hayes Park School, Hillingdon, London. For services to education
Helen
Tait
Headteacher, Sandgate Primary School and Folkstone Academy, Kent. For services to education in Kent
 
OBE
Vivien
Bailey
Lately Her Majesty's Inspector, Ofsted
Mark
Blundell
Chief Executive, Salmon Youth Centre, Bermondsey, London. For services to young people
Jennifer
Boothman
Lately Headteacher, Pennington CE Primary School, Pennington, Cumbria. For services to education
Kathryn
Broadhurst
Headteacher, Green Lane Infants School, Leicester. For services to education
Thomas
Canning
Headteacher, Tollgate Primary School, Newham, London. For services to local and national education
Laura
Coletti
Manager, Violet Melchett Sure Start Children's Centre, Kensington, London. For services to children and families
Angela
Darnell
Headteacher, Egglescliffe High School, Stockton-on-Tees. For services to education
Margaret
Eva
Headteacher, Bourne Community College, West Sussex. For services to education
Tracy
Jackson
Manager, The Crescent Children's Centre, Meir, Stoke on Trent. For services to children and families
Lynne
James
Manager, Hartcliffe Sure Start Children's Centre, Bristol. For services to children and families
Dilys
Jones
Lately Headteacher, Lypiatt Primary School and Early Years Centre, Wiltshire. For services to education
Jean
Jones
Headteacher, Grace Owen Nursery School, Sheffield. For services to Early Years Education
Sian
Rees-Jones
Headteacher, Bognor Regis Sure Start Children's Centre, West Sussex. For services to Early Years education
Roger
Legate
Principal and Head of Visual Impairment Service, Linden Lodge School, Wandsworth, London. For services to special needs education
Catherine
Myers
Executive Headteacher, Bishop Challoner Catholic Collegiate Schools, Tower Hamlets, London. For services to education
Angela
O'Connor
Headteacher, Sacred Heart Catholic Primary School, Hastings. For services to education
Honor
Rhodes
Director of Strategic Development, Tavistock Centre for Couple Relationships
Inderjit
Sandhu
Headteacher, Launde Primary School, Leicestershire. For services to education
Angela
Sibson
Chief Executive, National Academy of Parenting Practitioners. For services to children and families
Christopher
Stevens
Lately Head of Inclusion Policy, British Educational and Communications Technology Agency. For services to special needs education
Elizabeth
Taylor
Public Health Manager, Southampton City Primary Care Trust. For services to children and families
Fiona
Wheeler
Team Leader, Early Years Parenting and Promoting Learning Team, Department for Education
 
MBE
Christopher
Barrows
Chair of Governors, Coombes Church of England Primary School, Wokingham, Berkshire. For voluntary service to education
Alan
Bernstein
For services to young people in Kent
Francis
Betteridge
For services to the voluntary sector in Sandwell, West Midlands
David
Braddock
Governor, Ferndown Upper School, Dorset. For voluntary service to education
Lorraine
Brett
Foster carer, Lancashire. For services to children and families
Ralph
Brett
Foster carer, Lancashire. For services to children and families
Donald
Charlton
For voluntary service to the Scouts in the North East
Pamela
Clarke
For services to the community in West Yorkshire
Terence
Clarke
Assistant Headteacher and Arts Coordinator, Langley School, Solihull. For services to education
Pauline
Cocker
Lately Chair of the Corporation, Birkenhead Sixth Form College, Wirral. For voluntary service to education
Simon
Cooke
Governor, Newport Free Grammar School, Essex
Mary
Crook
For services to young people in Cornwall
Shirley
Dyer
Caretaker, College Park Infant School, Portsmouth. For services to education
Marie
Erwood
Assistant Headteacher, Stewards School, Harlow, Essex. For services to education
Carol
Foster
ICT Teacher, Lakeside School, Chandlers Ford, Hampshire. For services to special needs education
Diana
Freeman
For services to education in Hertfordshire
Halina
Gammie
For services to study support and Playing for Success
Andrew
Gibson
For services to young people in Scotswood, Newcastle-upon-Tyne
Angela
Grandfield
Lately PE Teacher and Pastoral Manager, Shire Oak School, Walsall. For services to education
Christine
Gubbins
Foster Carer, Hampshire. For services to children and families
Catherine
Hegarty
Nursery Nurse, Knotty Ash Primary School, Liverpool. For services to special needs education
Judith
Ish-Horowicz
Headteacher, Synagogue Religion School, Wandsworth, London. For services to Early Years education
Marcia
Hutchinson
Director, Primary Colours Ltd, Huddersfield. For services to cultural diversity
Dawn
Jackson
For services to young people in Norwich
Suzanne
Kitching
Manager, Families First Service, Middlesbrough. For services to children and families
Christopher
Lee
For services to young people in Romford, Essex
David
Lewis
Chairman of Governors, Whitefield School, Barnet, London. For services to education
Patricia
Lewis
Youth Leader, Banstead Youth Centre, Surrey. For services to young people
David
Lister
For voluntary service to young people
Catherine
Marshall
Assistant Headteacher, Wyvern School, Ashford, Kent. For services to special needs education
Janet
Martin
For services to the Examinations Officer Association
David
Maurice
Chair of Governors, Kenmore Park First School & Kenmore Park Middle School, Harrow, London. For voluntary service to education
Mary
McCarthy
For voluntary service to Charlie's Angels' Youth Fundraising Group, Eton Wick, Berkshire
David
McGuigan
Manager, Longbenton Youth Project, Newcastle-upon-Tyne. For services to young people
Edwin
Menday
Governor, Longford Community School, Hounslow, London. For voluntary service to education
Eric
Milburn
For voluntary service to young people
Stephen
Mitchell
Assistant Headteacher, Shelthorpe Community Primary School, Loughborough. For services to education
Pamela
Noden
Foster carer, Bradford. For services to children and families
Robert
Noden
Foster carer, Bradford. For services to children and families
George
Ozenbrook
Accommodation Officer, Facilities Management, Department for Education
Brian
Peacock
Lately Headteacher, Sunnyhurst Primary Pupil Referral Unit, Blackburn with Darwen. For services to education
Benjamin
Perl
For services to Jewish education in London Borough of Barnet
Margaret
Postgate
For voluntary service to Girlguiding in Sedgefield, County Durham
Bridget
Redmond
Lately Caretaker, Mount St Mary's High School, Leeds. For voluntary service to education
Beryl
Riches
For services to Selwyn Primary School, the London Borough of Newham
Marjorie
Seal
For voluntary service to Girlguiding in Kent
Roy
Sinar
For services to young people in the West Midlands
Margaret Ann
Southren
Deputy Headteacher, Durham Trinity School, Durham. For services to special needs education
Michael
Stevens
Chair of Governors, Oakwood Park Grammar School, Maidstone, Kent. For voluntary service to education
Delia
Sykes
Mathematics Teacher, King Edward VI School, Morpeth, Northumberland. For services to education
David
Tait
For voluntary services to the NSPCC
Glenda
Taylor
Lately Governor, De Aston School, Market Rasen, Lincolnshire. For services to education
John
Tillett
Chair of Governors, Colchester Royal Grammar School, Essex. For voluntary service to education
Barbara
Westcott
For voluntary service to the Scouts in North East London
Brenda
Whitmore
Deputy Head, Hillfields Children's Centre, Coventry. For services to children and families
DfE enquiries
Central newsdesk - for journalists 020 7783 8300
General enquiries - for members of the public 0370 000 2288
Published 14 June 2010