World news story
British High Commission in Gaborone celebrates The Queen's Birthday
The High Commission in Botswana hosted a garden party to celebrate the 90th Birthday of Her Majesty Queen Elizabeth II.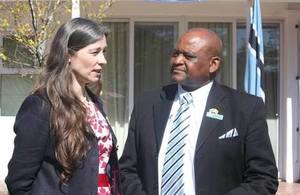 On 16 June, the High Commission in Botswana hosted a garden party, in honour of Her Majesty's 90th Birthday.
The UK High Commissioner to Botswana, Ms Katy Ransome, welcomed the guests, among them Hon. Deputy Minister Presidential Affairs & Public Affairs, Dikgang Makgalemele, members of the Diplomatic Corps and senior government officials.
Ransome, who had arrived in Botswana on 24 February, said:
Having arrived earlier this year, it would be strange for me to stand before you and tell you about the depth and breadth of the relationship between the UK and Botswana, when many of you here today have been part of building and nurturing the relationship for many years – in some cases for generations of your families. This is of course an exciting year for Botswana as we prepare to celebrate together 50 years of Independence. Anniversaries are a great time both for looking back and looking forward, and I am very much looking forward to the celebrations in September.
Published 22 June 2016