Queen presents new Colours to Royal Regiment of Scotland
Her Majesty The Queen presented new Colours to The Royal Regiment of Scotland on Saturday 2 July 2011.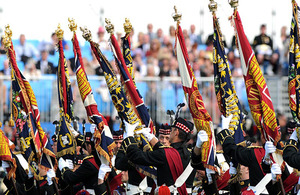 Her Majesty has been the Colonel-in-Chief of The Royal Regiment of Scotland since its formation five years ago.
Colours are incredibly important to any Army unit as they represent the spirit of the regiment. Consisting of two large brocade and embroidery flags, Colours were originally carried into battle so that soldiers of a particular regiment could see where the rest of their unit was located at all times.
The new colours were presented by the Queen during a parade at Holyrood Park, Edinburgh, which included marching contingents from six of the seven battalions of The Royal Regiment of Scotland (the 4th battalion is currently deployed on operations in Afghanistan) and their pipes and drums, along with the Band of The Royal Regiment of Scotland.
This was the first time that six battalions from any regiment have been on parade at the same time. The parade also included several hundred veterans from the regiment's antecedent units.
The infantry units of the British Army each have two Colours: The Queen's Colour, which is a Union Flag; and a Regimental Colour, which has all the unit's battle honours inscribed on it.
Colours are no longer carried on the battlefield but are held in the greatest of esteem by soldiers and officers. They are brought out on important parades and regimental occasions, and are escorted by a 'Colour Party'.
When new Colours are presented, the old ones are not destroyed but laid up in a regimental museum, church, or other military building with significance to the particular unit.
Saturday was The Royal Regiment of Scotland's first ever Colours presentation. Colours are normally presented only every 20-25 years - in essence only once in a soldier's career.
Uniquely, the 2nd Battalion of The Royal Regiment of Scotland has the distinction among infantry units of carrying three Colours on parade. The third - the Assaye Colour - was originally awarded by the Governor General in India on behalf of the British East India Company to the 74th Highland Regiment [antecedent regiment] for distinguished service at the Battle of Assaye in India, in 1803, while under the command of Sir Arthur Wellesley, who later became Duke of Wellington.
Published 5 July 2011