Queen presents new Colours to Coldstream Guards
Her Majesty The Queen presented new Colours to the 1st Battalion and Number 7 Company of the Coldstream Guards at Windsor Castle this morning.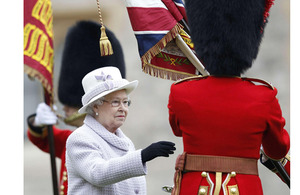 Colours are the regimental flags of the British Army. They were originally used as rallying points on the battlefield as long ago as during the time of the Kings of Babylon, and were vital because, without modern communications, it was all too easy for troops to become disorientated by the fog of war.
From the reign of Queen Anne every regiment was awarded two Colours: the Queen's Colour and the Regimental Colour.
In the Guards Regiments, the Queen's Colour is crimson silk and the Regimental Colour is the Union Flag. Both carry the most notable of the regiment's battle honours.
The new Colours for the Coldstream Guards carry 44 of their 117 battle honours, the last being the Gulf in 1991 for the liberation of Kuwait.
Since then the Coldstream Guards have served operationally in Northern Ireland, Bosnia, Iraq, and Afghanistan in 2007/8 and 2009/10, when the battalion was awarded an unprecedented four Military Crosses.
The new Colours were presented to the Coldstream Guards today by the Queen, who is their Colonel-in-Chief. She was accompanied by the Duke of Edinburgh.
Colours were last carried into action by the 58th Foot in South Africa in 1881. Up until that time they participated in all the varying fortunes of their regiments, and, often torn by enemy fire, they acquired an almost religious significance. Colours are always carried by an officer and accompanied by an armed escort.
The Coldstream Guards is the oldest regiment in the British Army, having provided unbroken service to the nation since 1650.
In 1660 General George Monck was instrumental in the restoration of the monarchy and the parade today was an extension of that tradition of loyalty to the Crown.
The Coldstream Guards have served with distinction in campaigns throughout the nation's history, particularly in the Napoleonic, Crimean and Boer Wars, and the First and Second World Wars, winning a total of 13 Victoria Crosses.
Following the presentation of the new Colours the regiment will prepare to 'Troop the Colour' on 16 June. On parade they will be joined by elements of the Grenadier, Scots and Irish Guards and by the Household Cavalry Mounted Regiment and the King's Troop Royal Horse Artillery.
After Trooping the Colour at Her Majesty's birthday parade this summer the regiment will prepare to deploy to Afghanistan once more.
Published 3 May 2012