News story
Qualifications included in performance tables
The latest position on level 1 and level 2 (sometimes known as IGCSEs) academic qualifications in performance tables.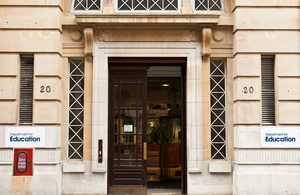 The government has extensively reformed GCSEs to ensure they are the gold standard qualification for 16-year-olds. Our aim throughout has been to create qualifications that match the best education systems in the world and to keep pace with universities' and employers' needs.
The Department for Education has worked closely with exam boards and Ofqual to see how alternative qualifications, such as academic level 1 and level 2 certificates (sometimes known as IGCSEs), could also be reformed to ensure they are as rigorous as the new GCSEs.
Unfortunately it has not been possible to find a way to include them in performance tables that would not undermine the standards of GCSEs. For this reason, and because we are determined to ensure that qualifications have the confidence of employers and universities, there will not be an alternative route by which level 1 and level 2 certificates can be reformed. These qualifications will be included in performance tables only until reformed GCSEs in each subject are first examined and counted.
The Minister of State for School Reform, Nick Gibb, has today (16 January 2015) written to awarding organisations to confirm these arrangements.
Published 16 January 2015