QCS board announces change to oral evidence hearing dates
Timetable to consider proposals revised following further directions hearing.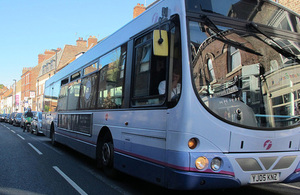 The Quality Contract Scheme (QCS) board has today (4 March 2015) confirmed that oral evidence sessions into the proposed scheme will now take place in July.
The announcement follows a directions hearing in London on 25 February after Nexus asked for more time to prepare a response to the operators' challenges to the proposed quality contract scheme.
The QCS board agreed to postpone the hearings until July in the interests of fairness to all parties. The bus operators agreed that the hearing dates scheduled for March and April could not be fulfilled.
The oral evidence sessions will now take place on 13 to 17 and 20 to 24 July 2015. The venue for the hearings will be announced in due course.
In view of the revised timetable, the board cannot publish a final report in May. The board therefore intends to publish its final report by 31 October 2014.
The revised timetable leading to publication of the QCS board report is as follows:
| | |
| --- | --- |
| 13 March 2015 | Nexus to submit written evidence and matters of issue in response to the QCS board and operators |
| 17 April 2015 | Rebuttal evidence from the operators is to be provided to the QCS board and the other parties |
| 15 May 2015 | Statements of agreed points and matters still at issue to be provided |
| 4 June 2015 | QCS board programming meeting (London) |
| 26 June 2015 | Skeleton arguments to be submitted by all parties |
| 13 to 17 July 2015 | Oral evidence sessions |
| 20 to 24 July 2015 | Oral evidence sessions |
| 11 September 2015 | Written closing submissions |
Chair of the QCS board, Mr Kevin Rooney, has written to the Secretary of State for Transport to confirm the board's revised timetable.
Press enquiries
Media office
Eastbrook House
Shaftesbury Rd
Cambridge
CB2 8DU
Published 4 March 2015