World news story
QBP commemorates Shakespeare at HMA's residence in Lima
Queen's Birthday Party also commemorated Shakespeare's 450th Anniversary and St George's Day.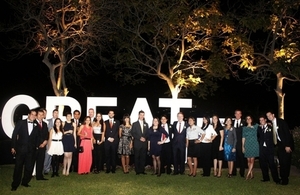 It was a triple festivity on St George's Day. On Thursday 23 April, the British Embassy in Lima received a large assortment of guests to celebrate Her Majesty Queen Elizabeth II's birthday at HMA's James Dauris' residence in Monterrico. Organised in close collaboration with the British Peruvian Chamber of Commerce, the party had as a special theme the 450th anniversary of playwright William Shakespeare. Attendees included government officials, Diplomatic Corps, local and international business, media guests, artists, and British Chamber of Commerce and British Embassy staff.
The night was enhanced by the music of Peruvian English language association El Británico's ensemble and later by local singer Martha Galdós' band. Fish and chips were served and Peruvian stage star Miguel Iza performed an excerpt of his celebrated Richard III. Three other Shakespearean characters were present: Romeo, longing (and chasing) his beloved Juliet, and Hamlet, delivering his "to be or not to be" monologue with the required skull in his hand.
After the show, Ambassador James Dauris remarked: "Tonight we celebrate four things, first the 88th birthday of her Majesty the Queen who, as head of state represents stability and continuity during times of change; second is the long and flourishing relationship between Peru and the UK; we also celebrate friendship in a broad sense not only among governments but also companies, universities and civil society; and last we commemorate the life and work of William Shakespeare."
The Queen's Birthday Party is an event celebrated by every British Embassy across the five continents. The British Embassy in Lima's QBP was an unforgettable event and had the aim of strengthening good relations between Peru and the UK. The Embassy also notes that this year Ambassador James Dauris will finish his diplomatic mission in Peru having made an important contribution to the country for the past 4 years.
It has been announced that Mr Anwar Choudhury will assume as new Ambassador in August 2014.
Photo gallery: Click here.
Published 8 May 2014