News story
Pylon Design Competition finalists unveiled; LIVE BLOG from the event
Six Pylon Design Competitions finalists to be unveiled Replay the DECC live blog from the event including all the presentations…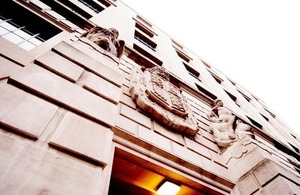 Six Pylon Design Competitions finalists to be unveiled

Replay the DECC live blog from the event including all the presentations and pictures of the designs
The Rt Hon Chris Huhne MP today opened a display at the Victoria & Albert Museum's London Design Festival featuring scale models of six striking designs for new electricity pylons. The designs have been shortlisted from 250 entries to the Pylon Design Competition.
The six teams presented their designs at "A Pylon for the future" event in the Sackler Centre at the V&A. The Rt Hon Chris Huhne MP spoke about the competition and the energy challenge facing the UK. Architect, Sir Nicholas Grimshaw also presented on the power of design.
We live-blogged the event from the V&A Museum. Re-play the stream, take a look at the new designs and the questions asked.
Photos of the V&A exhibition are available on the DECC Flickr feed.
---
Podcast of the shortlisting event featuring all the designers presenting their winning pylon ideas.
Published 14 September 2011