Putting patients at the heart of the NHS
Government accepts "core" recommended changes to its NHS reforms.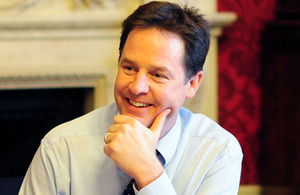 The government has accepted the "core" changes to its NHS reforms recommended by the NHS Future Forum, the group of health experts, and made changes to put patients at the centre of the health service.
The changes will mean less bureaucracy and waste, a greater focus on quality and results for patients, and more freedom for doctors, nurses and the wider frontline.  
Responding to the recommendations of the NHS Future Forum with the Prime Minister and Health Secretary Andrew Lansley, Nick Clegg said "patients, doctors and nurses have spoken. We have listened. Now we are improving our plans for the NHS".
In his speech, Nick Clegg said:
We all know how important the NHS is to the British people. It isn't just a system or a service. The NHS says something about who we are: a nation that cares for its citizens when they need it, whatever their means.

The NHS isn't a machine. You can't flick a switch and turn it on and off. It's a living, breathing part of our lives. Reforming an institution like that takes time. We have to be careful and considered. It's too important to get this wrong.
Among the key changes announced today include: 
Wider involvement in clinical commissioning groups. A wider range of experts will be given the power and freedom to make decisions about health services for their local community by, for example, including nurses and specialists on the boards of clinical commissioning groups.
Stronger safeguards against a market free-for-all. The health care regulator Monitor's core duty will be to protect and promote patients' interests, it won't be required to promote competition as if it were an end in itself.
Additional safeguards against privatisation. We will never privatise the NHS, and will create a genuine level playing field to stop private companies 'cherry-picking' profitable NHS business. We will ensure that competition is on quality, not price. 
Evolution, not revolution. We will allow clinical commissioning groups to take charge of commissioning when they are ready and able, and a more phased approach to the introduction of Any Qualified Provider.
Greater information and choice for patients.  The Government will make clear that the people who make decisions about local services have a duty to promote patient choice. And following current pilots, the Government will make it a priority to extend personal health budgets including across health and social care.
Breaking down barriers within and beyond the NHS. A new duty for clinical commissioning groups to promote joined up services both within the NHS and between health, social care and other local services.
Investing for the future of the NHS.  We want all providers to make a fair contribution to the costs of education and training of NHS staff, but we will introduce changes carefully and take the time to develop the details right.
In order to ensure that Parliament has sufficient opportunity to scrutinise the Government's changes, relevant parts of the Health and Social Care Bill will be recommitted.  Further details of this, and the amendments the Government will make to the Bill, will be set out shortly.  
The Government also today announced the independent NHS Future Forum will continue to lead on listening in the NHS, ensuring an effective communication channel with the NHS.  Among other areas they will focus on education and training; patients' rights and public health.
Speeches and transcripts: Nick Clegg's speech on reforming the NHS
Published 14 June 2011