Push to help poor countries prepare for disasters
Britain today called on international partners to help poor countries be better prepared when disasters hit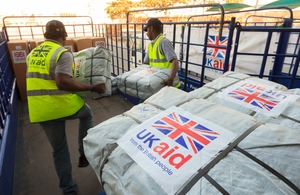 Development Secretary Andrew Mitchell today called on the international community to help poor countries be better prepared when disasters hit.
During morning talks at the United Nations, he asked delegates to look beyond the immediate humanitarian response in the Horn of Africa and to help countries 'build back better' after the crisis.
While circumstances in each country differ, it is possible to protect vulnerable communities from the impact of drought, he will say, as shown by the experience in Ethiopia. An innovative 'safety nets' programme, providing cash or food for work for some 8 million Ethiopians each year has helped to protect many from the worst of the current crisis.
Building resilient communities who are better able to prepare for and withstand the impacts of disasters is crucial if we are to reduce the loss of lives and livelihoods in future disasters.
Resilience activities should be tailored to each different area but cover issues like conflict mitigation, appropriate shelter, diversification of income sources and the development of systems to better manage natural resources.
International Development Secretary Andrew Mitchell said:
It makes sense to focus on helping those we know will be at risk in advance - so they are better prepared to cope themselves with the threats that they face.
To underline the UK's commitment to long-term efforts to tackle hunger and malnutrition in developing countries, Mr Mitchell will launch a strategy to reach 20 million children at risk of malnutrition worldwide.
Over the next four years, Britain will target children under five, adolescent girls and pregnant women with efforts to improve nutrition, including:
providing micronutrient supplements for 6.2 million children, promoting breast feeding and community treatment in North Nigeria
reaching 375,000 children under five with vitamin A and 50,000 pregnant women with iron tablets in Bangladesh
As well as direct action to tackle malnutrition, the strategy looks at addressing the underlying causes such as gender inequality and food insecurity.
Speaking ahead of the Scaling Up Nutrition event at the talks, Mr Mitchell said:
It's shocking that in the 21st Century, one in three children are undernourished. Not only does this result in many preventable deaths, but stunts growth, hampers brain development and severely limits children's life chances. There are direct measures - like vitamin supplements - that can help, but we need to address the underlying causes as well.
Published 20 September 2011