Pulling pints at The Partridge
Community Pubs Minister Bob Neill visits The Partridge in Bromley.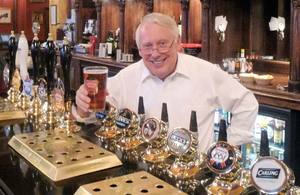 Pulling the perfect pint was (lager) top of the agenda today for Bob Neill as he stepped behind the bar to do a shift in his local; serving thirsty punters and showing his support for the Great British pub.
After a quick run down of bartending basics, from pulling pints to changing barrels from pub manager Tom Hayden, the Mr Neill joined the staff rota for an afternoon shift at his local, The Partridge in Bromley.
Coinciding with the start of British Pub week (28 October to 6 November), the shift was an excellent opportunity for the minister to learn more about the day-to-day running of the local pub and show his support to the industry.
This year British Pub Week will see hundreds of pubs across the country inviting customers old and new to join them for a week of special events, special offers and special experiences all celebrating the role of the 'local' in the community.
Community Pubs Minister Bob Neill said:
"Stepping behind the bar has been a great learning experience and not just in how to pull the perfect pint. Speaking to the landlord and locals here it is clear that pubs are so much more than places to grab a drink. They are hubs of community life as important to the local social scene as to the local economy.
"Just as the pub is integral to the local community, so the local community is integral to the pub and we should all support our local. British Pub Week gives us another opportunity to celebrate this Great British institution, so let's drink to that."
Tom Hayden, Manager of The Partridge said:
"The Partridge is a haven from the hustle and bustle of Bromley High Street, somewhere my regulars come to share their experiences of the day over a well-kept pint or two. At any point in time my pub can be a community centre, a village hall, a marriage guidance office or even an MP's drop-in surgery.
"It's important that the community has somewhere they can leave their troubles behind and relax, and that's what we aim to provide at The Partridge."
Across the country MPs are stepping behind the bars' of their local pub in a scheme organised by the All-Party Parliamentary Beer Group to highlight the important place of pubs in communities across the country.
Supporting thriving community pubs
The government has introduced a series of measures to help support thriving community pubs:
through the Community Right to Buy, the Department is giving residents the power to save struggling local pubs by taking them over rather than seeing them empty and derelict.
the Department for Communities and Local Government is reviewing restrictive covenants, a clause that can be used in the sale of a building that restricts the use by new owners.
the government has introduced a more generous small business rate relief scheme, to help half a million small firms; for 2 years from October 2010, small firms will receive 100% rate relief (ie pay no business rates at all) on properties up to £6,000 Rateable Value, and a tapered rate relief from £6,000 to £12,000; an estimated 330,000 no small firms will pay no rates at all
the government is also giving local councils new powers via the Localism Bill to introduce local business rate discounts
the government has launched a review of entertainment licensing that makes it difficult for pubs to provide live music
the government has also abolished the cider tax and is stopping unfair sales of alcohol below cost-price by supermarkets
More photos from the visit are available from the DCLG Flickr channel
Published 27 October 2011