Pubs see in the New Year with lifeline from minister
As millions prepare to ring in the New Year tonight, Pubs Minister Bob Neill has given the pubs industry a boost for 2011.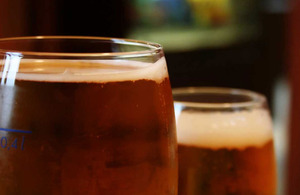 He has pledged to review the rules that prevent precious community pubs and hubs from reopening again as public houses or entertainment venues.
Mr Neill said that a public consultation will look at the issue of 'restrictive covenants', a clause that can be used in the sale of a building that restricts the use by new owners. Pubs groups such as the Campaign for Real Ale (CAMRA), have said that covenants can be used by large companies to limit competition and close local pubs, with no hope of having them reopened.
Pubs Minister, Bob Neill, said:
The pubs and clubs in our community can be the heart and soul of a town, village or street and many of us will be heading off to our local this evening to celebrate the New Year. But too many are being closed down, depriving communities of important places to get together with their neighbours for a quick pint and a catch up.

For too long now communities have felt shut out when rules prevent a building being used again as a public house or community club. I want to stop that and put local people in charge. By reviewing the use of this restrictive piece of red tape it is another boost for localism and means that communities could use their collective powers to keep important hubs of community life open.
Large pub companies often use covenants to remove competition or when there is a motive to change the use of a pub, to residential or commercial use. CAMRA, the Plunkett Foundation and Pub is the Hub have previously said that pub covenants are too restrictive.
By changing the use of restrictive covenants, communities have greater opportunity use the new 'Community Right to Bid' (formerly the 'Community Right to Buy') power in the Localism Bill, and take over a local pub if it comes up for sale.
The Right to Buy measure gives local groups the legal right to nominate any vital community asset including local shops, pubs, libraries and leisure centres to be assessed for recording on a 'most wanted' list by the local council. If a listed asset goes on the open market, its sale will be delayed triggering a 'community countdown' that will give people time to prepare their business plan and raise the funds they need to bid.
Mike Benner, the Chief Executive of CAMRA said:
Restrictive covenants are used by pub companies to deprive local communities of their pubs, at a time when 29 pubs are closing every week. Between 2004 and 2009, this happened to almost 600 pubs.

This announcement that the government will consult on the use of restrictive covenants is a great success for localism, and shows that government recognises that pubs are vital community assets that need to be protected. For the new community right to buy scheme announced in this week's Localism Bill to work, pubs need to be available for communities to keep open.

It's a victory too for people power: this proposal came from communities on the ground, via their local councils who put the proposals to central government.
Further information
Three local councils (Darlington, Newcastle upon Tyne and Ryedale) have applied under the Sustainable Communities Act that the government take action on the issue of restrictive covenants. As a result, the government agreed to a public consultation on the issue as a means to understand the local level impact of covenants on communities.
By Summer 2011, the department will undertake a public consultation on the issue of covenants, with a particular focus on pub covenants and the local level impact on communities. The consultation will also look at whether power for either local or central government would be necessary and useful to aid the issue and what form any powers would take.
The Community Right to Bid measures are included in the Localism Bill, announced on Monday 13 December.
The Community Right to Bid will require local authorities to maintain a list of sites of community value put forward for consideration by communities. The local authority will assess the suggestions before recording on the list. When listed land comes up for disposal (either the freehold or a long leasehold), communities will be given the chance to develop a bid and raise the capital to buy the asset. They will then be in a better position to bid to buy the asset when it comes on the market at the end of the moratorium.
This will help local communities to save sites which are important to the community, which will contribute to tackling social need and building up resources in their neighbourhood. The Bill will provide the framework for the right, the detail of which will be set out in secondary legislation, and subject to public consultation in the new year.
Published 30 December 2010