Publication of human rights guidance for UK Overseas Security and Justice Assistance
Foreign Office Minister Lord Howell has announced to Parliament the publication of guidance to ensure that HMG overseas security and justice assistance work meets our human rights obligations and our values.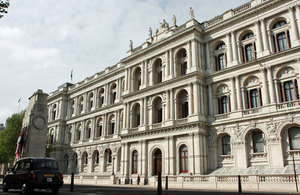 In a written statement to Parliament the Foreign Office Minister said:
My Right Honourable Friend the Secretary of State for Foreign and Commonwealth Affairs (William Hague) has made the following Written Ministerial Statement: I would like to inform the House of the introduction of the Overseas Security and Justice Assistance (OSJA) Guidance.
On 13 October, I announced in a Statement to the House the conclusions of the Government's review of policy and practice with regard to the export of equipment that might be used for internal repression, in light of events in the Middle East and North Africa. I also announced that the Government had considered how we could strengthen our decision making when we provide security and justice assistance overseas. I said that guidance on assessing the human rights implications of such assistance would be issued to all government officials and that it would be published before the end of 2011. A copy of the Overseas Security and Justice Assistance Human Rights Guidance has now been deposited in the Library of the House.
The Guidance is part of a package of improvements that responds to the lessons of this year, and our wider commitment to strengthen and uphold the record of the United Kingdom as a defender and promoter of human rights and democracy. This Guidance will assist HMG staff who are called upon to advise on security and justice matters overseas. It will ensure greater consistency in the human rights approach to security and justice assistance overseas across HMG; it will assist in the identification and consideration of applicable legal obligations; and it will ensure that our security and justice activities, whilst meeting HMG's national security priority, are also consistent with a foreign policy based on British values including human rights.
UK security and justice assistance to international partners to tackle threats such as terrorism, serious organised crime and conflict, and to support sustainable development, remains crucial to implementing our foreign policy and development priorities. As well as strengthening our relationships with other governments and increasing our prospects for future cooperation with security institutions, this type of work can have a direct impact on our national interests. For example, the Strategic Defence and Security Review recommended that HMG increase efforts to tackle the terrorist threat at source, overseas.
Our Counter Terrorism Programme aims to do just this by increasing the capacity of overseas authorities, such as the police, military and intelligence, to detect, investigate and disrupt terrorist threats.
At times, this will mean working with countries, institutions or units where we have concerns about their adherence to and respect for human rights and democracy. Often, it is these countries or institutions where security and justice assistance is most needed. While it is in our national interest to continue to provide such assistance, in doing so we must ensure that such assistance supports our values and is consistent with applicable domestic and international human rights obligations.
Today's publication of the OSJA Guidance is a reflection of our determination to ensure that when we provide assistance in these countries, we do so in a manner that promotes, rather than undermines, human rights and democracy.
Making these decisions is not always straightforward. While UK justice and security assistance can help achieve both security and human rights objectives in a given country, it can also present a variety of human rights risks. The OSJA Guidance was produced in order to provide practical support to government officials making these difficult decisions. It provides a clear framework to help officials identify the human rights risks, propose appropriate measures to mitigate these risks and produce a final assessment. It also sets out when the decision to provide assistance should be taken by senior personnel or Ministers. The Guidance covers case specific assistance such as the deployment of specialist police officers to assist with an investigation, as well as broader capacity building assistance.
The OSJA Guidance already applies to the Foreign and Commonwealth Office and is currently being rolled out to other government departments. An internal review of the guidance will take place in April 2012.
The Government is committed to tackling issues related to security and human rights in an open and transparent way. This is why we published the Consolidated Guidance to Intelligence Officers and Security Personnel on the Detention and Interviewing of Detainees Overseas, and on the Passing and Receipt of Intelligence Related to Detainees. And it is why we have taken the decision to publish the Overseas Security and Justice Assistance Guidance today.
Published 15 December 2011