Press release
Publication of DWP Research Report 766: Qualitative Research into Enhanced Jobseeker's Allowance Provision for the 50+
Research published today by DWP examines the experience of unemployment for older jobseekers.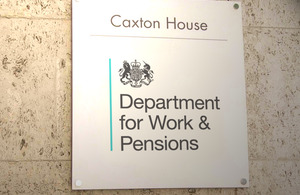 New research published today by DWP examines the experience of unemployment for older jobseekers.
Unemployed people over 50 face particular challenges in the labour market.
They generally take longer to get back to work and are at greater risk of drifting into long-term unemployment or prolonged economic inactivity.
Additional support was introduced from April 2010 for Jobseeker's Allowance claimants aged over 50 years of age.  The policy aim was to help and support older jobseekers to return to work.  Enhanced training for Jobcentre Plus Personal Advisers was introduced at the same time to support the changes.
The research suggests that older newly redundant claimants have a number of key barriers to work that stem from having long work histories e.g. the lack of a CV, lack of job application experience and lack of familiarity with the modern labour market and with online job application procedures.
Older jobseekers prefer one-to-one provision with Personal Advisers.  Work Trials are seen as effective in helping older claimants show their employability.  Flexibility in the timing of employment support interventions was seen as crucial in meeting the needs of older claimants.
The Work Programme was launched in June 2011 to help long-term unemployed people return to work through personalised support.
Jobcentre Plus will continue to support claimants early in their benefit claim.  From April 2011 advisers have had greater flexibility to address the needs of individuals and respond to the local labour market more effectively.
DWP has worked with Jobcentre Plus to build on these research findings to enhance training for personal advisers to ensure that employment programmes achieve the best possible outcomes for older jobseekers.
Notes to Editors
The DWP Research Report 'Qualitative Research into Enhanced Jobseeker's Allowance Provision for the 50+' is available at: http://research.dwp.gov.uk/asd/asd5/rrs-index.asp
The research report presents analysis based on 100 qualitative depth interviews, 60 with JSA claimants aged 50 to 64, 35 interviews with Jobcentre Plus Personal Advisers and 5 interviews with Jobcentre Plus and DWP Head Office staff.  The report examines the implementation and early operation of new measures introduced from April 2010 to enhance the provision of employment support through Jobseeker's Allowance for older jobseekers. Research fieldwork was carried out in England, Scotland and Wales between October and December 2010.
The new measures were extra adviser time for older jobseekers, early access to Work Trials, fast-track to more intensive employment support and new training for Jobcentre Plus Personal Advisers helping those aged over 50 to return to work.
The research was commissioned by DWP from independent research experts and the report was authored by Andrew Thomas and Alison Pemberton of Insite Research and Consulting.
Since April 2011 Jobcentres have had more flexibility to help all claimants find and keep work. The local labour market will shape support in each area and new measures aimed at getting Britain working will become a central part. The Work Programme offers all jobseekers, including those aged 50 and over, personalised support to secure and sustain work.
In June 2011, there were a total of 230,000 claimants aged over 50 claiming Jobseekers Allowance.
Published 11 August 2011