Press release
Publication of DWP Research Report 762: Unsuccessful Employment and Support Allowance Claims
Report of qualitative research into the subsequent activities and experiences of a sample of customers whose claim for ESA was unsuccessful.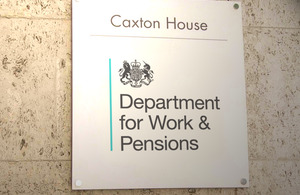 The Department for Work and Pensions today publishes a report of qualitative research into the subsequent activities and experiences of a sample of customers whose claim for Employment and Support Allowance (ESA) was unsuccessful - either because they withdrew their claim or it was closed by Jobcentre Plus before it was assessed, or because they were found Fit for Work at the Work Capability Assessment. The research focused on people who did not move into work, or appeal, when their ESA claim ended.
Sixty customers were interviewed in March 2011. The research was conducted by the Institute for Employment Studies. The main findings were:
Reasons for claiming ESA
The onset/worsening of a health problem was an important trigger of an ESA claim - but so were a range of other 'life events' not linked to health, such as a job ending for non-health reasons, loss of another income source such as savings or a partner's earnings, or advice from Jobcentre Plus or a doctor.
Closed and withdrawn ESA claims
Most interviewees whose claim was closed or withdrawn said they had ended their ESA claim as their health condition had improved. These people tended to have gone back to work, or be looking for work.
Some people proactively withdrew their claim, informing Jobcentre Plus of this, while others simply stopped submitting medical certificates or did not return their ESA50 form, in the knowledge this would prompt Jobcentre Plus to close their claim. Nobody interviewed consciously ignored an invitation to a face-to-face Work Capability Assessment as a means of closing their claim.
Other customers had their claim closed by Jobcentre Plus because they had difficulty completing and returning the ESA50 questionnaire, even though they did not really want to end their claim.
People found Fit for Work
Some people strongly disagreed with the decision they were Fit for Work, while others accepted this, agreeing they were able to work.
The research specifically excluded those awaiting decision on an appeal against being found Fit for Work, but those interviewed were asked their reasons for not appealing. These reasons were wide-ranging - some had started then abandoned an appeal due to delays or stress, others lacked the resources to appeal or felt they would not succeed, while others agreed they were now Fit for Work or felt 'the authorities must know best'.
People who subsequently claimed Jobseeker's Allowance (JSA)
Those claiming JSA were generally at the early stages of the claim and reported minimal involvement - typically fortnightly signing-on - with Jobcentre Plus. Health issues were little-discussed, although some had them reflected in their Jobseeker's Agreement, others chose to conceal them, given the work availability requirements of JSA. Some people not claiming JSA felt unable to because their health meant they could not fulfil JSA conditionality, or because JCP had told them they were 'too ill' to claim JSA.
Notes to Editors:
'Unsuccessful Employment and Support Allowance Claims", by Helen Barnes, Joy Oakley, Helen Stevens and Paul Sissons, of the Institute for Employment Studies, was published on 26 July 2011 as report 762 in the DWP research report series. It is available on the DWP website at http://research.dwp.gov.uk/asd/asd5/rrs-index.asp
Published 26 July 2011