Press release
Publication of DWP research report 758: 'Flexible New Deal evaluation: customer survey and qualitative research findings'
A new report that documents evaluation of the Flexible New Deal (FND) between November 2009 and January 2011 has been published.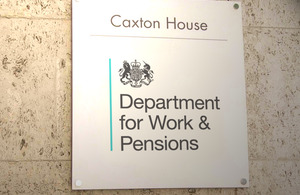 A new report that documents evaluation of the Flexible New Deal (FND) between November 2009 and January 2011 has been published by the Department for Work and Pensions.  This research includes findings from:
qualitative research conducted with FND jobseekers and providers;
a survey to compare the outcomes and experiences of customers experiencing FND with those experiencing the former JSA regime and New Deals to assess whether jobseekers felt the support they received through FND was as effective in helping them find or move closer to work.
Key findings from the research:
Overall, the survey found that younger (18-24) customers in FND areas were less likely to be in paid work two years after making a claim than those in non-FND areas experiencing the former JSA regime and New Deals. There was no difference in the employment rates of 25+ customers.
FND offered people more one-to-one support and greater adviser continuity, which was highly valued by both staff and claimants. But where providers used a segmented customer journey delivery model, this valued continuity was disrupted.
Although FND support was more likely to be seen as useful by claimants, the support was not always individually tailored. FND appeared no more personalised than the former New Deals and did not necessarily address the specific needs of certain customer sub-groups.
Despite the increased flexibility afforded to providers, the qualitative research found little evidence of innovation in service design; only in service delivery (e.g. IT support and service management). Greater flexibility also appeared to have led to differences in the amount of support received (e.g. variation in access to training and in-work support, and different rules on the payment of travel expenses).
There was evidence to suggest that not all providers satisfied the requirement to meet with customers every fortnight or to deliver four weeks of Mandatory Work Related Activity (MWRA) to everyone. High customer volumes and difficult labour market conditions made it difficult for providers to source enough work-related placements to satisfy demand. Providers wanted the freedom to excuse customers for whom MWRA may not be appropriate (e.g. professionals or those with severe personal problems).
The qualitative research identified several issues with regards to the effects and administration of sanctions, including poor timing and inconsistency of messages between Jobcentre Plus and providers, and staff believing long term claimants were less likely to change their behaviour when faced with the prospect of losing money.
Notes to Editors:
DWP Research Report 758, 'Flexible New Deal (FND) Evaluation: Customer survey and qualitative research findings' was published on 29th June 2011.
This research report explores service delivery, customer experience and outcomes from the Flexible New Deal (FND). It presents findings from a national survey of Jobseeker's Allowance (JSA) customers at the 12-24 month point of claim, comparing support received under FND with equivalent support provided under the former JSA and New Deal regimes. It incorporates findings from qualitative research with FND providers and customers in three FND contract package areas.
The research was carried out on behalf of the Department for Work and Pensions by a consortium led by the Policy Studies Institute (PSI). The qualitative research was conducted between October and December 2010; the customer research by PSI and the FND provider research by PricewaterhouseCoopers. The survey was conducted by IFF Research Ltd in January/February 2011.
The authors are Sandra Vegeris, Lorna Adams, Katie Oldfield, Christine Bertram, Rosemary Davidson, Lucia Durante, Catherine Riley and Kim Vowden.
Published 30 June 2011